---
FROM THE BISHOP:
Dear People of the Diocese of New Jersey,
Speak out for those who cannot speak,
for the rights of all the destitute.
Speak out, judge righteously,
defend the rights of the poor and needy.
Proverbs 31:8-9
For the past few weeks, as part of our Discerning Our Common Call Process,  I have engaged clergy and laity in the Diocese of New Jersey in conversations about Anglican Mark of Mission IV:  "To transform unjust structures of society, to challenge violence of every kind and pursue peace and reconciliation." There are several more Bishop's Forums to go.  
Justice is a major biblical theme.  There are 142 verses in the Bible that use a form of the word "Justice."  In addition, often the words "righteousness" and "judgement" are substituted for the word "justice." Justice is a central concern of scripture and of the God to whom our scriptures point.
The Harper Collins Bible Dictionary defines "justice" as "the standard by which the benefits of society are distributed."  They comment, "Justice is founded on the being of God, for whom it is a chief attribute.  As such, God is a sure defender of the poor and oppressed." They add, "Since the justice of God is characterized by a special regard for the poor and the weak, a corresponding quality is demanded of God's people" (San Francisco: Harper San Francisco,1996 ed. Achtemeier qv "Justice")
As Episcopalians, we acknowledge this demand in our Baptismal Covenant when we are asked, "Will you strive for justice and peace among all people, and respect the dignity of every human being," and we respond, "I will with God's help" (Book of Common Prayer, 305). Pursuing justice is not optional for us.  To make things complicated, questions of justice and injustice are often wrapped up in our political systems.
When I write or speak about justice, I am sometimes challenged by people who feel the church should not be "political." As a baptized Christian, as a clergy person and bishop, I cannot accept this, nor do I think any faithful Christian should accept it.  To suggest that God does not care about our politics is absurd.
Politics is the means by which we as people organize the structures of society.  Politics is where power in our country is distributed and so also our society's benefits. Political power in our country affords the privilege of distributing wealth to some, and taking it away from others; it confers authority to incarcerate some and allow others their freedom. In a democracy, there is the enormous potential that politics can be manipulated to create imbalances and unjust structures. At times, this can even become demonic. In our own time, this potential has been realized. It is demonic.
As people of faith, we are commanded to interfere on behalf of those who are treated unfairly and unjustly. Let justice roll down like waters, and righteousness like an ever-flowing stream, the prophet Amos famously cried (Amos 5:24).  Micah echoed this, "What does the Lord require of you but to do justice, and to love kindness and to walk humbly with your God?" (Micah 6:8).
In a press call this past Wednesday, The Secretary of Housing and Urban Development, Ben Carson, laid out a proposal that would triple rent for the poorest households in this country. His proposal would also increase requirements to qualify for federal housing assistance and make it easier for housing authorities to impose work requirements. According to an analysis of HUD data by the Center on Budget and Policy Priorities, Mr. Carson's proposal would put nearly 1 million children at risk of homelessness. It is reported that approximately 460,000 single mothers with children would be most affected.[1]
Just at face value, Mr. Carson's proposal is wrong.  Coming as it does, on the heels of a massive tax cut that has benefited the wealthiest citizens of our country, Mr. Carson's proposal is an offense against God's justice and calls for a sure and unambiguous response from Christians.
As people of faith we are called to act in the face of injustice.  Our actions may take the form of demonstrations.  They may take the form of calling or writing to our Senators and Representatives.  What we cannot do as followers of Jesus Christ is sit still and be silent while people are suffering and being hurt.
When confronting injustice as Christians, we must be clear that our positions are arrived at through our prayerful engagement with Jesus and our scriptures, not through partisan leanings toward one party or another.  As many recognize, "God is not a Republican or a Democrat."
The witness of Jesus and the scripture concerning the poor is clear and unequivocal.  When we side with the poor, we are not siding with Republicans or Democrats. We are standing with our Lord who bids us, "Come, follow me."
Blessings and peace,


The Right Reverend William H. (Chip) Stokes, D.D.
Bishop of New Jersey
[1] Jan, Tracy "HUD Secretary Ben Carson's proposal to triple rents for poorest households would hurt single mothers the most" On-line edition of The Washington Post, April 27, 2018
Bishop's Schedule Highlights
Forthcoming
FEATURE: POOR PEOPLE'S CAMPAIGN CELEBRATES 50 YEARS

FEATURE: WATCHUNG YOUTH LEADS CEMETERY CLEANUP
The Watchung Convocation Youth will be going to Evergreen Cemetery on Plainfield Avenue, between 7th and 4th Street, Plainfield, NJ 07060, on Saturday, May 5th from 9 am to 12 noon. There are 8 Civil War Veterans buried in this cemetery, and the group hopes to one day re-furbish their head stones. The Plainfield City Council helps this project by supplying the rakes, gloves, and garbage bags and aids in trash removal. More participants are welcome; contact Wendy Blackman by email at vickibaj12@aol.com.
From Our Disaster Recovery Coordinator:
Hurricane Season Begins June 1; Are You Prepared?
Join friends old and new for a
Diocesan Choir Camp Reunion Evensong
and


Installation of Canons:
Honorary Canons of Trinity Cathedral
The Rev. Robert H. Legnani
The Rev. Karin R. Mitchell
The Rev. Jayne J. Oasin 
Saturday, May 12, 2018 at 4:00 p.m.
at Trinity Cathedral, Trenton                           
If you know of any young singers who would like to give Choir Camp a try, invite them to come sing!  The music should be familiar to former campers. There will be a rehearsal for all singers. Bring vestments if you have them, the rest will be provided. Any boy or girl age 10+ is welcome to sing. Those planning to sing should RSVP to njchoircamp@gmail.com.
 ……..
 ……
The Third Sunday in May is Now ECW Sunday!
RESOLUTION 2018-3:
Subject:  The support and acknowledgment of the work of Episcopal Church Women in the Diocese each year with the third Sunday of May being proclaimed "

ECW

 Sunday" throughout the Diocese of New Jersey
Be it resolved, That the 234th Convention of the Diocese of New Jersey support and appreciate the work and ministry of 

ECW

 throughout the Diocese and, in acknowledgement thereof, hereby designates the third Sunday in May to be "

ECW

 Sunday" from this Convention and on into the future, and be it,
Further resolved, That parishes throughout the Diocese of New Jersey demonstrate their support of 

ECW

 with prayer and designated collections to be used by the Diocesan 

ECW

 to further its work of mission and ministry.
The Prayer for the Episcopal Church Women:
Almighty God, we pray that You will bless our work in mission and ministry in the world. Help us to pray fervently, labor diligently and give liberally to make known the power of your love given through your son Jesus. Let us not forget the lessons from the past nor fear the challenges of the future. Anoint us with your grace and shine in our hearts as we reflect your light throughout this world.
……
Join Trinity Cathedral for its 

Annual Cathedral Sunday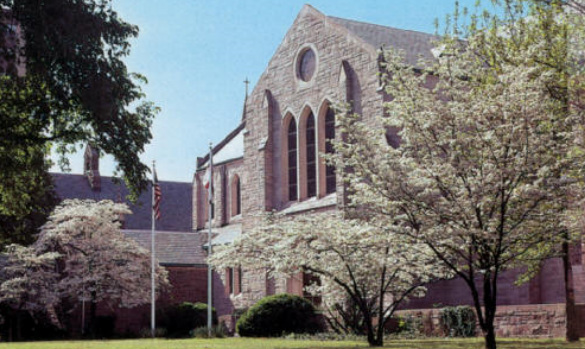 All congregations in the Diocese are invited to participate in the Trinity Cathedral's Cathedral Sunday confirmations on June 3, 2018 at 10:30 am. 
Please send names to Patrice D'Angelo at Trinity Cathedral no later than May 25th.  
Bishop William H. Stokes enthusiastically invites parishioners throughout our Diocese to celebrate Cathedral Sunday on 
June 3, 2018
 by joining in worship in a special 
Flower
Festival
 Eucharist Service beginning at 
10:30 a.m.
The Cathedral will be decorated with numerous magnificent floral arrangements created by floral
ministries and parishioners throughout the Diocese at a floral workshop conducted the day before. Bishop Stokes will be the Celebrant, and the Reverend Canon Karin Mitchell of St. David's Cranbury will preach. Children from various parishes will read, lead prayers, and offer the elements. All are invited to a lite lunch immediately following the Eucharist highlighting the many vital urban ministries of Trinity Cathedral.

There will be a Cathedral scavenger hunt for the kids as well as docent-led tours of the magnificently adorned and historic Cathedral. All congregations have been encouraged to send representatives, especially youth, to worship at "their second home church," and all floral ministries and interested parishioners, regardless of skill level, are invited to participate in the free and professionally led workshop on Saturday, June 2
nd
. All floral materials will be provided, as will lunch. For further information on the workshop and confirmation, contact Patrice D'Angelo at the Cathedral Office at 609-392-3805 or at 
patriceattrinity@aol.com
.

*This will be in place of a separate Spring diocesan-wide confirmation service this year. 
……
SPRING 2018 BISHOP'S FORUM SCHEDULE
May 1, 2018
CAMDEN: Grace Church, Merchantville
3:00 – 5:00 p.m. –  clergy
7:00 – 9:00 p.m. – lay
May 2, 2018
WOODBURY: CHRIST CHURCH, WOODBURY
3:00 – 5:00 p.m. –  clergy
7:00 – 9:00 p.m. – lay
May 9, 2018
BURLINGTON: TRINITY CHURCH, MOORESTOWN
3:00 – 5:00 p.m. –  clergy
7:00 – 9:00 p.m. – lay
……
Spring into Summer
Fashion Show & Dinner Dance
Grace Episcopal Church, Plainfield
600 Cleveland Avenue, Plainfield NJ 07060
Saturday, May 19, 2018 at 4 PM
Grace Episcopal Church in Plainfield cordially invites you to attend our Spring Into Summer Fashion Show and Dinner Dance fundraiser on Saturday, May 19 at 4 p.m.  Featuring fashions for women, men,  and children, you're sure to be inspired by the latest fashion trends as you plan your wardrobe for summer 2018. Dress Barn is working closely with us to stage the fashion show and will give a 30% off coupon to everyone who attends.  Dinner and dancing follow the fashion show.  It will be fun, fun, fun!  Tickets are only $25.  You can purchase your tickets at the door or online at www.graceplainfield.org.  
For information, call the administrative office at Grace Church — 908 756-1520 — or email karen@graceplainfield.org
.
……
Upcoming Events and Openings at Crossroads Retreat Center and Camp
WOW! Women of the Woods
April 28
WOW! is a day for women of all ages to share the wonder and delight of new life. This new, one-day program will take place from 9 am until 4 pm on Saturday, April 28. The $25 registration includes a full day of activities and lunch. We welcome women of all ages to join us! Please register on the website.
www.crossroadsretreat.com/year-round-programs/wow/ 
Open House
April 21, May 19, June 2
Come and visit Cross Roads Camp and Retreat Center to learn all about our summer and year-round opportunities. Take a tour of camp, hear stories about summer camp, ask questions, and finish with a delicious lunch in the Dining Hall.
Tours start at 10:30 am on each of the three dates. Register on the website.
http://crossroadsretreat.com/summer-programs/open-house/
Now Hiring for Summer Staff 2018!
Are you or a young adult you know looking for a life-changing summer experience? We are seeking passionate, dedicated, fun young adults to serve in various roles! Join our team for a summer of growing in your faith, helping shape the faith of others, and making unforgettable memories!
Download this flyer to share with your congregations or other young adults you know!
……
CLASSIFIED ADS
PART-TIME PARISH ADMINISTRATOR

St. Peter's Spotswood is searching for a Parish Administrator.  This is a part time position (20 hours/week), Monday through Thursday, 9 a.m. to 2 p.m. A qualified candidate would bring a welcoming and helpful presence to the Parish Office and must be proficient with Microsoft Office software. Good organizational and communication skills are required. Prior church administration experience is a plus. Email your interest with cover letter and resume to administrator@stpetersspotswood.org  Application will be accepted through April 30th.

SEEKING KEYBOARDIST
The faithful people of Saint James' Episcopal Church, Edison, are looking for a keyboardist to join our community and lead our music ministry.  We have a Jupiter-80 available to play – a nearly full-sized keyboard with lots of sound options.  The successful candidate will appreciate the important role music plays in the worship life of a church community.  We are a small but kind group of people who loves to sing!  There is money in the church budget to pay the keyboardist on a pro-rated annual basis.  We hope to have someone in place soon after Easter.  If you are interested, please contact Mother Kristen, Priest-in-Charge, at revkfoley@gmail.com or 732-985-2023. 

SEEKING INFORMATION ABOUT ELECTRONIC GIVING

St. Francis, Dunellen, is exploring setting up an electronic giving system If your congregation is using such a system, please

contact them

with the following: Name and contact info of the service you use, fees/costs involved for parish and/or donor, rough percentage of households that use this option, pros and cons, anything else we should know.

.

SEEKING LEVAS II

 ……
Holy Trinity Episcopal Church of Wenonah has 20 maroon choir robes and collars which are no longer needed. The contact person is Margie McWilliams, 856-468-6664, if you have interest in these items.
Proclaiming Christ in the Garden State
609.394.5281
info@dioceseofnj.org
We are the Episcopal Branch of the Jesus Movement in the Southern 2/3 of New Jersey.
Social Share