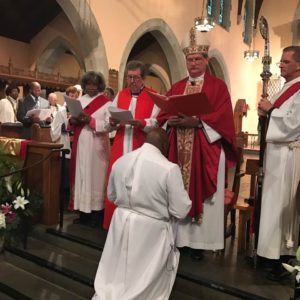 Transition Ministry Update as of April 13, 2020
The congregations are listed alphabetically by place, with the name of the church preceding the town, city, or village.
An asterisk (*) indicates a change in status since the last report.
Church websites are independently managed and maintained.
For questions or comments on those websites, please contact the church directly.
For clergy looking to apply for open positions under the "Receiving Names" categories, please respond to this questionnaire and contact: The Reverend Canon Brian Jemmott at bjemmott@dioceseofnj.org or at (609) 394-5281 ext. 21.
Congregations wishing to request a background check of a candidate should use this form.
Please contact Canon Jemmott with questions about the below listings or for assistance.
To check open positions across the Episcopal Church log onto the OTM Database or visit their website.
Searching for a rector?
Recent Calls:
Receiving Names for Rector:
None
Receiving Names for Priest-in Charge:
Receiving Names for Interim:
None
Not Yet Receiving Names for Rector:
Not Yet Receiving Names for Rector/Priest-in-Charge: None
Not Yet Receiving Names for Priest-in-Charge:
No Longer Receiving Names for Priest-in-Charge
Future Course in Ministry Under Discernment with Bishop's Office: