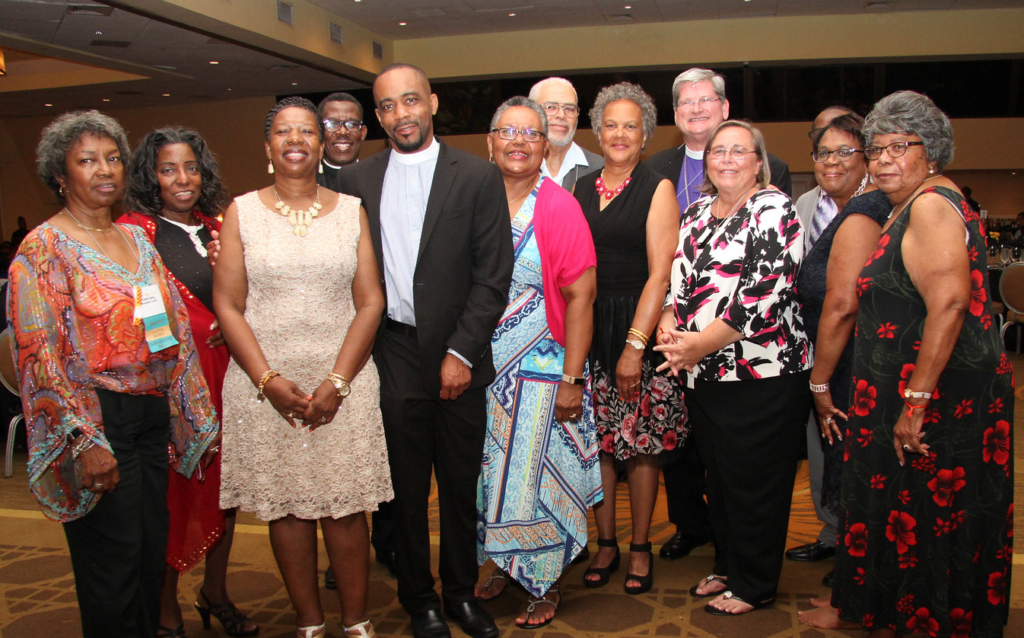 A LETTER FROM BISHOP STOKES:
Dear People of the Diocese of New Jersey,
"So if anyone is in Christ, there is a new creation: everything old has passed away; see everything has become new!  All this is from God, who reconciled us to himself through Christ, and has give us the ministry of reconciliation; that is, in Christ God was reconciling the world to himself, not counting their trespasses against them, and entrusting the ministry of reconciliation to us…."  2 Corinthians 2:17- 19
From July 23 – 27,  Susan and I participated in the 50th Anniversary Conference of the Union of Black Episcopalians, which took place at Meliã Resort in Nassau, Bahamas. It was the first meeting of the U.B.E. to be held outside the continental United States. The decision to hold the meeting in the Bahamas was not merely because it is a lovely location; it underscores the connection of all persons of the African Diaspora: persons dispersed from Africa by the practice of transatlantic slavery in the 17th – 19th century in the Western World. The 50th Anniversary Annual Meeting of the U.B.E. was a great success.  The Bahamian Anglican Church and their bishop, the Right Reverend Laish Boyd, were gracious, hospitable and generous hosts in every way.
This is the third U.B.E. Annual Meeting I have attended. Each time I have participated, I have learned much. I have been personally challenged about the privileges I enjoy as member of white society which still enjoys unearned benefits and safety in a nation marred by systemic injustice. I have been challenged about the continuing struggles we face in our church and in our nation around issues of race and gross inequity. Each time I have attended a U.B.E. meeting, I have been profoundly moved by the love of our country, the love of our Church and the love of Jesus members of the Union of Black Episcopalians have, despite the fact that our church and our nation have, historically, marginalized Black Americans, treated them shamefully and, in too many instances, treat them shamefully still.
Black members of the Episcopal Church are discriminated against in many search processes. It is rare for a person of color to be called rector of a predominately white church. This is particularly true of wealthier and healthier white churches.  Of the 100 or so cathedrals in our Episcopal Church, only two of the deans are black. Yes, Dean Rene John of Trinity Cathedral is one of the two.
Sadly, when we in the Diocese of New Jersey insist that Vestries and Search Committees undergo a two-hour anti-racism training, there is often resistance and complaining. The leadership begrudgingly undergoes the training, and then, more often than not, creates a slate of all white candidates and calls one of them to be priest. Black and women candidates are significantly under-represented in the House of Bishops. Who elects bishops?  How are they chosen?  Bishops are chosen by clergy and lay people of the diocese voting in convention. Generally, bishop nominees have been rectors of large, complex, congregations. But who gets chosen to be rector of these large, complex, congregations?  Overwhelmingly in The Episcopal Church, the answer is white males.
How can we break this cycle of discrimination? It will take effort and intentionality as well as large measures of God's grace.
Among the workshops I attended during the U.B.E. Annual Meeting and Conference was one titled Becoming the Beloved Community. Becoming the Beloved Community is an initiative that grew out of Resolution C019 passed by the 78th General Convention which met in Salt Lake City, Utah in 2015 and which called upon the leadership of the church to establish a response to systemic injustice.  Becoming the Beloved Community "reflects The Episcopal Church's long-term commitment to racial healing, reconciliation and systemic injustice."
The designers of Becoming the Beloved Community have framed the approach around the image of a labyrinth with four quadrants.  Each of the quadrants represent a particular focus: 1) Telling the truth; 2) Proclaiming the dream; 3) Practicing the way; and 4) Repairing the breach.  As the developers observe about their labyrinth image, "Becoming the Beloved Community represents not so much a set of programs as a journey, a set of interrelated commitments around which Episcopalians may organize our many efforts to respond to racial injustice and grow a community of reconcilers, justice-makers, and healers….On the road toward reconciliation and healing, we move around corners and double back into quadrants we have visited before, each time discovering new revelation and challenge."
I found this framework useful and think it may offer us a helpful tool as we continue to Discern Our Common Call.  I will be exploring this with some of our leadership groups in the days and weeks ahead.
In the meantime, pray about our ongoing challenges with discrimination in our society and in our church and ask what you and your congregation can do about these challenges. How can you engage in the ministry of reconciliation which Christ has entrusted to us?  It will take more than just hoping something will happen.  It will take determination, intentionality, will and concrete action.
Blessings and peace,


The Right Reverend William H. (Chip) Stokes, D.D.
Bishop of New Jersey
Bishop's Schedule Highlights
Monday, August 6, 2018:
Bishop's Sabbath
Tuesday, August 7, 2018:
Office appointments
Wednesday, August 8, 2018:
Staff and Oversight
Office appointments
7:00 p.m.       Christ the King Church, Willingboro – meeting with clergy, wardens and vestry
MANDATORY ANNUAL ENROLLMENT FOR HEALTH INSURANCE!
This year CPG is requiring that everyone who is covered by a Church Medical Trust health plan participate in Annual Enrollment. Annual Enrollment materials will be mailed to your home address in mint green colored envelopes. While it is important for those with an Anthem healthcare plan to update their personal information and confirm their enrollment, it is crucial for those with a Cigna healthcare plan to select a new plan for 2019. The Cigna Open Access Plus and Cigna Open Access Plus In-Network plans will not be available for 2019 but there will be similar plans available that utilize the Cigna network of providers. To learn more about the changes and how to choose the best plan to meet your needs, come to the free Benefits Workshop that will be held on October 13, 9:30 am to 1:00 pm at Trinity Cathedral. You can find more information and a link to the registration on our website here. Please register by October 5 and let us what information is most important to you when you register.
JUBILEE SPOTLIGHT: ST. JAMES' CHURCH, BRADLEY BEACH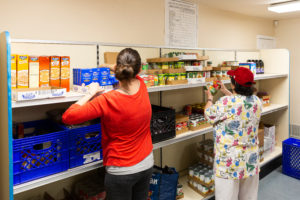 St. James' Episcopal Church in Bradley Beach is a tremendous asset to its community, featuring a thriving feeding ministry that utilizes a unique and powerful database system. Click here for more!
NOMINATIONS FOR OLDER ADULTS' EVENSONG OPEN NOW!
On Saturday, September 29, 2018, at 2 PM in Trinity Cathedral, Trenton, the Diocese of New Jersey will offer its Sixth Evensong honoring the ministry of older adults. The Rev. Dr. Carolyn Bradley, Dcn., the co-chair of the Committee for Ministry with Older Adults, will be our preacher. We invite you, your Wardens and Vestry to nominate one or two members age 65 and older (who have not previously been honored by our Diocese at this service) for outstanding leadership, ministry, service, and faith. Your nominees should be accompanied to the Evensong by clergy and other parish leaders as well as by family and friends.
Please click here for a nomination form. We appreciate your assistance in promoting this festive service and the reception which follows. Kindly send us the names of your nominees and a description of the reasons you have chosen them for special recognition on the nomination form (one for each person selected) no later than August 6, 2018. All those nominated by their parish or a Diocesan organization by the August 6 deadline will be honored.
Your nominees will receive a special invitation from our committee in early September. The Service bulletin will include their names, their parish and the nomination narrative you provide. We ask that all who plan to attend the event register through the Diocese of New Jersey Ministry Institute site.
Please communicate with those you have nominated and encourage them to hold the date. While we hope that all will join us, honorees do not have to be present to receive their award.
Committee for Ministry with Older Adults
808 West State Street, Trenton NJ 08618 (609)394-5281
This annual event is sponsored by The Committee on Ministry with Older Adults. This committee seeks to work in concert with the existing structures of our Diocese to recognize, honor, and utilize the experience, wisdom, gifts, and vitality of older adults while advocating for respect, dignity, and justice for this significant population within our Church. We have a unique treasure in the biblical witness which lifts up those seeking to become mature in wisdom and grace and actually celebrates age! We envision our work to include providing resources for our congregations about aging, training for pastoral care teams in support of families and other caregivers of older adults, advocacy on behalf of seniors in regard to health care, long-term care, and other services, and assistance to our churches in developing intentional intergenerational programs and ministries. Please let us know if you or a member of your congregation would like to join our committee by providing us contact information.
We look forward to raising up the ministry of older adults with you on September 29 and throughout the year!
In Christ,
The Rev. Sharon Sutton and The Rev. Dr. Carolyn Bradley, Dcn. Co-Chairs
CLICK THE BELOW FORM FOR
A FULL-SIZE PRINTABLE VERSION

UPCOMING SAFE CHURCH TRAININGS
Safe

 

Church

 

Training

 is a requirement for all those who work in the 

churches

 of our Diocese, especially those persons who work with children and youth.
Leaders: The Reverend Carolyn A. Bradley, Deacon, Ph.D., LCSW, LCADC; The Reverend Catherine Esposito, Deacon; The Reverend Carol Ann Pepe, Deacon, LCSW, St. Luke's, Metuchen, New Jersey; Ms. Kasi LeGrand, MSW, LCSW, Piscataway, New Jersey.
In this workshop, both sexual abuse of children and sexual exploitation and harassment of all persons are covered. This 
training
 is required every five years for clergy, wardens, employees, 
church
 personnel, lay Eucharistic visitors, and anyone regularly working with or around children or youth.
The morning session, from 

9am to noon

, deals with the sexual exploitation and harassment of all persons. The afternoon session, from 

12:30pm to 3:30pm

, deals specifically with the sexual abuse of children. Morning and afternoon sessions may be taken on the same day or on separate days, but both sessions must be taken.
Register by the Wednesday prior to the workshop: register online  or email 

mclisham@dioceseofnj.org

 or phone Mary Anne Clisham, 609 394-5281, ext. 10.
Those who have previously attended an onsite workshop in the Diocese of New Jersey may do their recertification 

training

 online by contacting Ann Notte (

anotte@dioceseofnj.org

) for an ID and Password.
Summer/Fall 2018:
August 25, 2018 – St. Andrew's, Mount Holly CHANGED from August 11
Registration link:  https://tinyurl.com/safechurch08112018
September 8, 2018 – Christ Church, Toms River
Registration link:  https://tinyurl.com/safechurch09082018
September 15, 2018 – Trinity, Moorestown CURRENTLY FULL; check back later for cancellations or other vacancies
Registration link:  https://tinyurl.com/safechurch09152018
September 22, 2018 – Grace, Haddonfield
Registration link:https://tinyurl.com/safechurch09222018
November 10, 2018 – St. Mary's, Clementon
Registration link:  https://tinyurl.com/safechurch11102018
……
CHOIR ROBES TO CLAIM
Holy Trinity Episcopal Church of Wenonah has 20 maroon choir robes and collars which are no longer needed. The contact person is Margie McWilliams, 856-468-6664, if you have interest in these items.
MUSIC DIRECTOR WANTED
St. Paul's Episcopal Church is a vibrant, program-sized parish in Westfield, New Jersey, seeking to grow in its spiritual vitality. We seek a Music Director to lead our music program consisting of an adult choir, two children's choirs, and community concert series.  The parish choir is comprised of 20 singers, mostly volunteers and up to 8 professionals. The choir sings Sundays at the 10 a.m. service and special services throughout the year. The choir is joined by chamber musicians at Christmas and Easter. With our Friends of Music program, we are known for our concerts throughout the year.
The ideal candidate will be a committed Christian, passionate about sacred music and its role in worship. The successful candidate will sustain our vibrant music program and be a strategic partner in developing and expanding our music ministry. A graduate degree in church music, organ performance, or a related area is preferred. The successful candidate will be devoted to and versed in traditional Anglican liturgy and music, yet be open to new musical expressions in liturgy. The successful candidate will be an exceptional church organist and choir director and have experience teaching children music.
St. Paul's has a 2004 organ built by Cornel Zimmer Organ Builders, consisting of 4 manuals, 55 pipe ranks, and 114 digital voices.
Salaried compensation will be in accordance with AAM standards. Benefits available.
Applications will be received through 30 July 2018.  Please send a resume or CV, audio files with examples of organ works performed and choral/orchestral works conducted, and three references to djohnston@stpaulswestfield.org or by postal service mail to:
St. Paul's Episcopal Church
Attn: The Reverend Dr. Duncan Johnston, Rector
414 Broad Street
Westfield, NJ  07090
Proclaiming Christ in the Garden State
609.394.5281
info@dioceseofnj.org
We are the Episcopal Branch of the Jesus Movement in the Southern 2/3 of New Jersey.
Social Share