St. James' Episcopal Church
Bradley Beach, NJ
The Rev. Cn. Terrance Rosheuvel
Supply Priest
"We do a very good job of providing food to anyone who asks while recognizing the dignity of everyone who comes in."                                                            Linda Curtiss – Food Pantry Director
Click here for an April 2018 article from the Coast Star
On October 7, 1982, under the joint auspices of St. James and the United Methodist Church of Bradley Beach, the Bradley Food Pantry opened its doors with the following mission:  to serve our neighbors in need, once a month, with emergency food for three days, with kindness, respect, and dignity for all clients.'
Twenty-years later, in October 2002, St. James' was designated and affirmed as a Jubilee Ministry of the Diocese of New Jersey.  The Jubilee Ministry Application listed the following outreach programs:
Bradley Food Pantry
Bea Shafer Outreach Center
Martha's Guild
James Cares
The HELP Ministry
The Emergency Response Team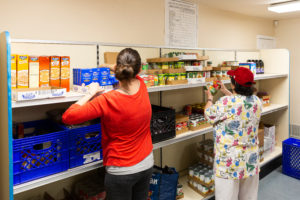 In its 36th year, the Bradley Food Pantry, housed in the Bea Shafer Outreach Center, continues to meet the needs of our sisters and brothers from Bradley Beach, Asbury Park, Avon, Belmar, Lake Como, Ocean Grove, Ocean Township, Neptune, Neptune City, Tinton Falls, and Wall Township. The Pantry is open five days a week from 10:00 AM to 12:00 PM and Thursday evenings from 6:00 PM to 7:00 PM and serves between 600 and 800 families (approximately 1,200 adults and 900 children) monthly with the help of 90 volunteers.  For Thanksgiving and Christmas, an additional distribution of turkeys and "all the trimmings" is provided to 700 families each. During the month of June, Canon Clara Gregory visited the Bradley Food Pantry.  Throughout her visit, she observed the camaraderie among the volunteers and guests.  It was hard to determine who was giving and who was receiving.  All questions and answers were responded with kind words and a smile.
Every guest arrived with recyclable bags to receive food based on family size, e.g., a single person might receive two or three bags of food, while a family of five might receive five or six bags. When possible, guests are asked for their food preferences while the bags are being prepared
Quick and efficient check-in process – computer program built for food pantries; Food Pantry Solutions, Bryant, Arkansas, approved by various food banks
A top-of-the-line dumb-waiter, donated by the McCrane Foundation, was included in the basic construction of the Outreach Center to facilitate movement of food products from the storage area in the basement to the distribution area on the main level
During conversation, Linda stated, "we never turn anyone away."  She is grateful for the members and friends of St. James along with several area churches that regularly contribute food and money.  They also receive federal and state food at no costs through the local Food Bank; and food contributions from local grocery stores, school groups, scouts and civic organizations.
The Bea Shafer Outreach Center is also a private and discrete meeting place for the following groups:  Alcoholics Anonymous (AA); Alanon Family Groups; and, Overeaters Anonymous (OA).
To learn more about the history of the Bradley Food Pantry and or to volunteer, please contact Linda Curtiss, Director at www.bradleyfoodpantry.org.
The Mission of Jubilee Ministry is to make a direct and dynamic link between our theology and our ethics.  We must take are of the poor but we must also attack the root causes of that poverty.
Charity and justice go hand in hand!
To learn more about Jubilee Ministry, please contact Canon Clara Gregory at msclaragregory@gmail.com.
Social Share