Youth Lock-In, All Saints' Episcopal Church, Scotch Plains
---
FROM THE BISHOP:
Dear People of the Diocese of New Jersey,
And this is his commandment, that we should believe in the name of his Son Jesus Christ and love one another, just as he has commanded us. All who obey his commandments abide in him, and he abides in them. And by this we know that he abides in us, by the Spirit that he has given us….1 John 3:23-24
This week, I want to add my congratulations and thanks for the work and ministry of Canon Chuck Perfater.  Chuck was recognized by bishop, clergy and lay representatives at the Province II Synod held on April 12 – 13 in Albany, New York. For those that don't know, The Episcopal Church is divided into nine provinces defined primarily by geographic proximity.  Province II is made up of the five dioceses of New York (New York, Central New York, Western New York, Rochester and Long Island), the two dioceses of the State of New Jersey (New Jersey and Newark) as well the dioceses of The Episcopal Church in Europe, Haiti, and the Virgin Islands (these latter dioceses being an exception to the "geographical proximity' rule).  Canon Perfater served faithfully as Province II Coordinator for 13 years.  As the resolution honoring him stated:
"He used his skills in communication and organization to keep the Province active and vital in the work of the church; he worked with the Provincial Leadership Council to elevate the goals and status of all the provinces; he successfully encouraged others in the province, his diocese, his parish and other provinces…to be active in leadership roles; he led the province to work with emerging technology; he enabled conferences on Stewardship, Youth Ministry, and other topics within the province."
Chuck Perfater has been a stalwart servant of Christ and leader in the Church all his life.  He has also been an advocate for the work of the Church at the provincial level, feeling strongly that clusters of dioceses serving in a close geographical region can be more efficient and effective than dioceses working in isolation. We in the Diocese of New Jersey are blessed to call him one of our own. It is why I honored him with the first Bishop's Cross Award in 2015. I hope that when you see Chuck around the diocese, you will congratulate and thank him.
A lot goes on every weekend in the Diocese of New Jersey.  Following are the events I will be part of this weekend:
On Saturday at Trinity Cathedral, I'll greet those attending the New Jersey Council of Churches Conference, Opioids:  The Next Steps.  The conference will take place from 8:30 – 2:00 PM.  I hope many from the Diocese of New Jersey will attend this event.  The opioid crisis has affected us all in this state. Clergy have shared with me the burden of this in their communities and in their ministries.
I will have to leave the conference and head up to All Saints Church, Scotch Plains for a Celebration of New Ministry. This is an opportunity to formally welcome The Reverend Susanna Cates as All Saints' Rector and to celebrate the tremendous life in Christ that is reenergizing that community.
Following that event, Canon Phyllis Jones and I will drive to Camp Cross Roads to join the Fr. Angelo Wildgoose, the Wardens and Vestry of St. Mark's, Plainfield in their Vestry Retreat. St. Mark's has been a steady and strong leader in Plainfield as well as in the Diocese of New Jersey.  I'm looking forward to being with them and hearing how Christ is working in their lives and leading them in bold new ways.
On Sunday, I am scheduled for a visitation with the people of St. Bernard's in Bernardsville. Exciting things are happening there under the leadership of The Reverend Beth Sciano. Perhaps most exciting is the building of a new Parish Hall which has come about through an interesting re-purposing on their property.
From St. Bernard's, I will head over to St. Paul's, Westfield for Celebration of New Ministry which will include the formal induction of The Reverend Duncan Johnston as their rector as well as confirmations and receptions.
During this great 50 days of Easter, the Lord is risen indeed.  Christ is making himself powerfully known to us and to the communities he calls us to serve in wondrous ways.  And by this we know that he abides in us, by the Spirit that he has given us…(1 John 3:24).
Blessings and peace,


The Right Reverend William H. (Chip) Stokes, D.D.
Bishop of New Jersey
Bishop's Schedule Highlights
Friday, April 20, 2018:
Bishop's Study Day
Offsite appointment
Pastoral visit
Saturday, April 21, 2018:
  8:30 a.m.               Trinity Cathedral:  NJCC – Issues & Action 2018 – Opioids: The Next Step
11:00 a.m.               All Saints' Church, Scotch Plains: Celebration of New Ministry: The Rev. Susanna P. Cates, Rector
3:00 p.m.                 Cross Roads Camp and Retreat Center:  St. Mark's Church, Plainfield Vestry Retreat
Sunday, April 22, 2018:
10:00 a.m.               Visitation:  St. Bernard's Church, Bernardsville
  3:00 p.m.               St. Paul's Church, Westfield: Celebration of New Ministry: The Rev. Dr. Duncan Johnston, Rector
Monday, April 23, 2018:
Bishop's Sabbath
Tuesday, April 24, 2018:
10:00 a.m.               Newly retired and upcoming retiring clergy brunch
Christ Church, Toms River – Monmouth Convocation
3:00 p.m.             Clergy Forum
7:00 p.m.             Lay Forum
Wednesday, April 25, 2018
Staff meeting and Oversight meeting
Office appointments
Thursday, April 26, 2018:
Office appointments
St. Peter's Church, Perth Amboy – Northern Convocation
3:00 p.m.             Clergy Forum
7:00 p.m.             Lay Forum
Friday, April 27, 2018:
9:00 a.m.             Constable Grant taping session
Upcoming Diocesan and Congregational Events
Featured Events and Notices
From Our Disaster Recovery Coordinator:
Hurricane Season Begins June 1; Are You Prepared?
Join friends old and new for a
Diocesan Choir Camp Reunion Evensong
and


Installation of Canons:
Honorary Canons of Trinity Cathedral
The Rev. Robert H. Legnani
The Rev. Karin R. Mitchell
The Rev. Jayne J. Oasin 
Saturday, May 12, 2018 at 4:00 p.m.
at Trinity Cathedral, Trenton                           
If you know of any young singers who would like to give Choir Camp a try, invite them to come sing!  The music should be familiar to former campers. There will be a rehearsal for all singers. Bring vestments if you have them, the rest will be provided. Any boy or girl age 10+ is welcome to sing. Those planning to sing should RSVP to njchoircamp@gmail.com.
Spring into Summer
Fashion Show & Dinner Dance
Grace Episcopal Church, Plainfield
600 Cleveland Avenue, Plainfield NJ 07060
Saturday, May 19, 2018 at 4 PM
Grace Episcopal Church in Plainfield cordially invites you to attend our Spring Into Summer Fashion Show and Dinner Dance fundraiser on Saturday, May 19 at 4 p.m.  Featuring fashions for women, men,  and children, you're sure to be inspired by the latest fashion trends as you plan your wardrobe for summer 2018. Dress Barn is working closely with us to stage the fashion show and will give a 30% off coupon to everyone who attends.  Dinner and dancing follow the fashion show.  It will be fun, fun, fun!  Tickets are only $25.  You can purchase your tickets at the door or online at www.graceplainfield.org.  
For information, call the administrative office at Grace Church — 908 756-1520 — or email karen@graceplainfield.org
……
St. Thomas' Church, Alexandria to Present Special Concert Event at Church of the Holy Spirit in Lebanon
Internationally Acclaimed (and Frenchtown, NJ local) Duo Present Their Newly Released Collaboration of "Moonlight in Empty Rooms." Save the Date! Saturday, April 28th. Concert and art presentation, featuring pianist, Heidi Breyer-Volkov and artist, Alexander Volkov, and silent auction.
"Heidi has created a deeply visceral and musical analysis of Alexander's art, and together they deliver a singular experience that is not to be missed." (Will Ackerman, Grammy-winning guitarist, producer and Founder of Windham Hill Records.)
Silent auction to feature three signed and numbered giclees by Alexander Volkov, each valued between $1,500 – $3,000. Other auction items include "A Day at the Races" at Monmouth Park, an airplane ride for three adults, local golf packages and more. Click here for tickets and more.
……
….
……
Taking the Church into the World at Rutgers Day
April 28
The Diocesan Animal Welfare Ministry will be present at the Cook Campus Rutgers Day event on Saturday April 28th.  (https://rutgersday.rutgers.edu)
We will be representing the Diocese of New Jersey with our animal welfare table display, and we look forward to a very busy, joyful and fruitful day interacting with the event-goers!  Please contact Deacon Chris Cox if you are interested in participating.
……
 ……..
 ……
The Third Sunday in May is Now ECW Sunday!
RESOLUTION 2018-3:
Subject:  The support and acknowledgment of the work of Episcopal Church Women in the Diocese each year with the third Sunday of May being proclaimed "

ECW

 Sunday" throughout the Diocese of New Jersey
Be it resolved, That the 234th Convention of the Diocese of New Jersey support and appreciate the work and ministry of 

ECW

 throughout the Diocese and, in acknowledgement thereof, hereby designates the third Sunday in May to be "

ECW

 Sunday" from this Convention and on into the future, and be it,
Further resolved, That parishes throughout the Diocese of New Jersey demonstrate their support of 

ECW

 with prayer and designated collections to be used by the Diocesan 

ECW

 to further its work of mission and ministry.
The Prayer for the Episcopal Church Women:
Almighty God, we pray that You will bless our work in mission and ministry in the world. Help us to pray fervently, labor diligently and give liberally to make known the power of your love given through your son Jesus. Let us not forget the lessons from the past nor fear the challenges of the future. Anoint us with your grace and shine in our hearts as we reflect your light throughout this world.
……
Upcoming Events and Openings at Crossroads Retreat Center and Camp
WOW! Women of the Woods
April 28
WOW! is a day for women of all ages to share the wonder and delight of new life. This new, one-day program will take place from 9 am until 4 pm on Saturday, April 28. The $25 registration includes a full day of activities and lunch. We welcome women of all ages to join us! Please register on the website.
www.crossroadsretreat.com/year-round-programs/wow/ 
Open House
April 21, May 19, June 2
Come and visit Cross Roads Camp and Retreat Center to learn all about our summer and year-round opportunities. Take a tour of camp, hear stories about summer camp, ask questions, and finish with a delicious lunch in the Dining Hall.
Tours start at 10:30 am on each of the three dates. Register on the website.
http://crossroadsretreat.com/summer-programs/open-house/
Now Hiring for Summer Staff 2018!
Are you or a young adult you know looking for a life-changing summer experience? We are seeking passionate, dedicated, fun young adults to serve in various roles! Join our team for a summer of growing in your faith, helping shape the faith of others, and making unforgettable memories!
Download this flyer to share with your congregations or other young adults you know!
http://crossroadsretreat.com/employment/
……
Join Trinity Cathedral for its 

Annual Cathedral Sunday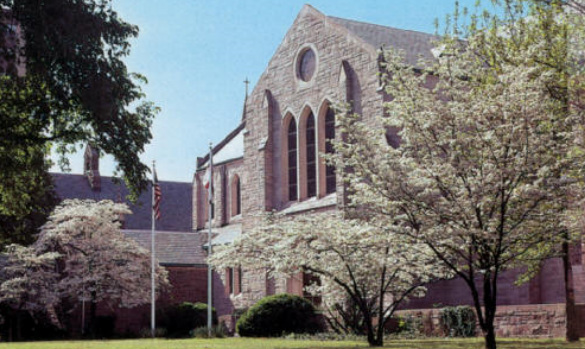 All congregations in the Diocese are invited to participate in the Trinity Cathedral's Cathedral Sunday confirmations on June 3, 2018 at 10:30 am. 
Please send names to Patrice D'Angelo at Trinity Cathedral no later than May 25th.  
*This will be in place of a separate Spring diocesan-wide confirmation service this year. 
……
SPRING 2018 BISHOP'S FORUM SCHEDULE
DATE
TIME
CONVOCATION
LOCATION

Tuesday

April 24, 2018

3:00 – 5:00 p.m. –  clergy

7:00 – 9:00 p.m. – lay

Monmouth

Christ Church

Toms River

Thursday

April 26, 2018

3:00 – 5:00 p.m. –  clergy

7:00 – 9:00 p.m. – lay

Northern

St. Peter's Church

Perth Amboy

Tuesday

May 1, 2018

3:00 – 5:00 p.m. –  clergy

7:00 – 9:00 p.m. – lay

Camden

Grace Church

Merchantville

Wednesday

May 2, 2018

3:00 – 5:00 p.m. –  clergy

7:00 – 9:00 p.m. – lay

Woodbury

Christ Church

Woodbury

Wednesday

May 9, 2018

3:00 – 5:00 p.m. –  clergy

7:00 – 9:00 p.m. – lay

Burlington

Trinity Church

Moorestown
……
NEW JERSEY COUNCIL OF CHURCHES
Opioids: The Next Step
Saturday, April 21, 2018; 8:30 – 2:00
Trinity Cathedral
Keynote Speaker: Daniel B. Hinshaw, M.D.
Emeritus Professor of Surgery
University of Michigan School of Medicine
Workshops will include:
· Funding of Prevention and Treatment
· Legal Issues—Statutory Reform related to Opioid Addiction
· Holistic Approaches to Treatment
· The Spiritual Dimension of Addiction
$15* in advance (payment can be made at the door)
$20* on day of conference
*includes morning coffee/bagels and lunch
Advance payment can be made by check payable to:
NJCC, P.O. Box 10371, Trenton, NJ 08650
……
PART-TIME PARISH ADMINISTRATOR

St. Peter's Spotswood is searching for a Parish Administrator.  This is a part time position (20 hours/week), Monday through Thursday, 9 a.m. to 2 p.m. A qualified candidate would bring a welcoming and helpful presence to the Parish Office and must be proficient with Microsoft Office software. Good organizational and communication skills are required. Prior church administration experience is a plus. Email your interest with cover letter and resume to administrator@stpetersspotswood.org  Application will be accepted through April 30th.

SEEKING KEYBOARDIST
The faithful people of Saint James' Episcopal Church, Edison, are looking for a keyboardist to join our community and lead our music ministry.  We have a Jupiter-80 available to play – a nearly full-sized keyboard with lots of sound options.  The successful candidate will appreciate the important role music plays in the worship life of a church community.  We are a small but kind group of people who loves to sing!  There is money in the church budget to pay the keyboardist on a pro-rated annual basis.  We hope to have someone in place soon after Easter.  If you are interested, please contact Mother Kristen, Priest-in-Charge, at revkfoley@gmail.com or 732-985-2023. 

SEEKING INFORMATION ABOUT ELECTRONIC GIVING

St. Francis, Dunellen, is exploring setting up an electronic giving system If your congregation is using such a system, please

contact them

with the following: Name and contact info of the service you use, fees/costs involved for parish and/or donor, rough percentage of households that use this option, pros and cons, anything else we should know.

.

SEEKING LEVAS II

 ……
Holy Trinity Episcopal Church of Wenonah has 20 maroon choir robes and collars which are no longer needed. The contact person is Margie McWilliams, 856-468-6664, if you have interest in these items.
Proclaiming Christ in the Garden State
609.394.5281
info@dioceseofnj.org
We are the Episcopal Branch of the Jesus Movement in the Southern 2/3 of New Jersey.
Social Share