---
FROM THE BISHOP:
Dear People of the Diocese of New Jersey,
No one has greater love than this, to lay down one's life for one's friends…John 15:13
Monday is Memorial Day. Though not a day of special devotion listed in our Church calendar, it is, for most Americans, a sacred day.  On Memorial Day we are called to pause and honor those who paid the ultimate price, and gave their lives for this country in time of war.  It is estimated that over the course of our country's history approximately 1.2 million men and women lost their lives in war.
One story concerning the origins of Memorial Day (originally titled "Decoration Day"), states that women in Columbus, Georgia laid flowers on the graves of both Confederate and Union soldiers in April of 1866.[i] For them to do this after a bloody, internecine war in which 620,000 had been killed –  almost as many casualties as all the other wars in which Americans have died combined – was a powerful symbol of healing. I wonder what they were thinking as they went about their work on that April day? Were they ready to forgive?  Were they ready for the country to be united after such a violent and divisive period?
Our country is divided today. Polarization is high and emotions are strong.  As we approach this Memorial Day, I find myself asking, for what did the 1.2 million who have lost their lives in our nation's wars die?  The standard answer is "for liberty, for freedom."  Yes, but whose freedom?  Whose liberty? In our country, too many do not enjoy either freedom or liberty.  The values of the Declaration of Independence and other of our core documents continue to be more aspirational than reality for many.  As a country, we are struggling to find a "common good."
During my recent Bishop's Forums, which focused on Anglican Mark of Mission # 4:  To transform unjust structures of society, to challenge violence of every kind and pursue peace and reconciliation, I introduced people of the diocese to a resource that was produced by The Episcopal Church's Office of Government Relations.  It's a five week Curriculum on  Civil Discourse.  I believe it is important for us to talk about the important matters that confront us as Christians and as Americans.  We need to learn how to engage in conversations about the "common good" in ways which honor our differences and respect the dignity of each of us.
In a short article written in 2012, author and educator Parker Palmer was insightful about differences in the Public Square. He wrote, "Political civility is not about being polite to each other. It's about reclaiming the power of "We the People" to come together, debate the common good and call American democracy back to its highest values amid our differences. The civility we need will come not from watching our tongues, but from valuing our differences and the creativity that can come when we hold them well."
Love the Lord your God with all your heart, with all your soul, with all your mind, and with all your strength, Jesus commanded his followers. He also commanded, "Love your neighbor as yourself."
I pray that we can all share a love that is worthy of those who gave their lives for the freedoms we enjoy even as "we debate with one another and call America back to its highest values amid our differences."  In his Gettysburg Address, Abraham Lincoln reminded his hearers of the sacred challenge they had to honor the dead of the Battle of Gettysburg.  It is a challenge which confronts all Americans in every age as we honor those who have died for the sake of the freedoms we enjoy:
It is for us the living, rather, to be dedicated here to the unfinished work which they who fought here have thus far so nobly advanced. It is rather for us to be here dedicated to the great task remaining before us — that from these honored dead we take increased devotion to that cause for which they gave the last full measure of devotion — that we here highly resolve that these dead shall not have died in vain — that this nation, under God, shall have a new birth of freedom —and that government of the people, by the people, for the people, shall not perish from the earth.
Blessings and peace,




The Right Reverend William H. (Chip) Stokes, D.D.
Bishop of New Jersey
[i]Wikipedia:  "Memorial Day" https://en.wikipedia.org/wiki/Memorial_Day
Bishop's Schedule Highlights
Friday, May 25, 2018
Bishop's Study Day
Saturday, May 26, 2018
10:00 am                       Trinity Church, Princeton: Memorial Service – William and Archdeacon Carol Stoy
Sunday, May 27, 2018
9:30 am                         Visitation: St. Mark's Church, Plainfield
Monday, May 28, 2018
Bishop's Sabbath
5:00 pm – 7:00 pm     Trinity Cathedral: Visitation hours for Bishop Councell
Tuesday, May 29, 2018
10:00 am                      Trinity Cathedral: Funeral Service – Bishop Councell
3:00 pm                        St. Mary's Church, Burlington: Interment
Wednesday, May 30, 2018
Staff and Oversight Meetings
5:00 pm                        Holy Spirit Church, Tuckerton – Town Hall Meeting with Phyllis Jones
Thursday, May 31, 2018
2:00 pm                       Office Appointment
7:00 pm                       Christ Church, Tom's River vestry meeting with Phyllis Jones
IN MEMORIAM: THE RIGHT REVEREND GEORGE COUNCELL
Please click here for more on the life of our beloved Bishop Councell, and for information on funeral arrangements and an advisory for travel and parking on Tuesday, May 29.
THE EPISCOPAL CHURCH OF CUBA: ITS VITAL IMPORTANCE AT GENERAL CONVENTION
by Canon Paul Ambos
Each week, look for more stories about General Convention!
The Episcopal Church of Cuba (Iglesia Episcopal de Cuba or "IEC") began as a Missionary District of The Episcopal Church ("TEC") established by the House of Bishops in the early 20th Century.  In 1966, in the aftermath of the Cuban Revolution that disrupted relations between the U.S. and Cuba, the House of Bishops terminated that status and made it an Extra-Provincial Diocese of the Anglican Communion ("AC").  The IEC in 2015 requested to be readmitted as a Diocese of The Episcopal Church.  The General Convention in 2015 appointed a Task Force to consider the IEC request, and the Task Force has proposed Resolution 2018-052, which "welcomes" the request but does not in terms provide for readmission of IEC as a new TEC Diocese.  
There is a question as to whether this could be accomplished at this year's Convention.  Article V, Section 1 of the TEC Constitution provides for the creation of new Dioceses from (a) dividing an existing Diocese, (b) joining two or more dioceses or parts thereof, and (c) by elevating an existing Missionary Diocese into the status of a Diocese. An argument has been raised that since this listing does not explicitly provide for creating a TEC Diocese from an existing Diocese of the Anglican Communion, IEC cannot be admitted to TEC unless and until the Constitution can be amended to so provide, which would take two consecutive Conventions.
On the other hand, the listing in Art. V, Sec. 1 does not explicitly state that these categories are the exclusive sources for new TEC Dioceses.  Moreover, there is an existing recognized principle of church polity that the General Convention can carry out any action that is not expressly forbidden to it by the Constitution.  In fact, General Convention in 2003 admitted both Venezuela (then a member of the AC Province of the West Indies) and Puerto Rico (then an Extra-Provincial AC Diocese but formerly a TEC Missionary District) as new TEC Dioceses.  
Beyond the Constitutional issue, there are questions as to how to accept the current Bishop of Cuba, the Rt. Rev. Griselda Delgado del Carpio, as a TEC Bishop.   She had been initially appointed under the Diocese of Cuba's Constitution.  TEC Bishops are required to be elected by their diocese's convention (or by the House of Bishops) and then approved by the House of Bishops and by the Standing Committees of all TEC Dioceses.  While there is a TEC Canon governing the admission of "clergy" from other churches, it doesn't cover bishops.  If Bishop Griselda is to join TEC as a Bishop, some form of this process will need to happen after this General Convention.
Finally, if Cuba is to become a TEC Diocese, it will also need to revise its Constitution and Canons and find a way for its clergy to become participants in the Church Pension Fund, for which no funding is currently planned.
These issues will be assigned to Legislative Committee 06 for review and recommendations to the Convention.  Bishop William Stokes chairs the House of Bishops Committee, and Canon Noreen Duncan and Canon Paul Ambos serve on the House of Deputies Committee, with Canon Duncan as Secretary of the Committee.

……
Join Trinity Cathedral for its 

Annual Cathedral Sunday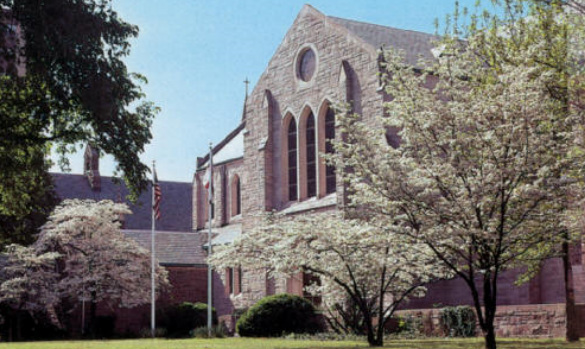 All congregations in the Diocese are invited to participate in the Trinity Cathedral's Cathedral Sunday confirmations on June 3, 2018 at 10:30 am. 
Please send names to Patrice D'Angelo at Trinity Cathedral no later than May 25th. 
Bishop William H. Stokes enthusiastically invites parishioners throughout our Diocese to celebrate Cathedral Sunday on 
June 3, 2018
 by joining in worship in a special 
Flower
Festival
 Eucharist Service beginning at 
10:30 a.m.
The Cathedral will be decorated with numerous magnificent floral arrangements created by floral
ministries and parishioners throughout the Diocese at a floral workshop conducted the day before. Bishop Stokes will be the Celebrant, and the Reverend Canon Karin Mitchell of St. David's Cranbury will preach. Children from various parishes will read, lead prayers, and offer the elements. All are invited to a lite lunch immediately following the Eucharist highlighting the many vital urban ministries of Trinity Cathedral.

There will be a Cathedral scavenger hunt for the kids as well as docent-led tours of the magnificently adorned and historic Cathedral. All congregations have been encouraged to send representatives, especially youth, to worship at "their second home church," and all floral ministries and interested parishioners, regardless of skill level, are invited to participate in the free and professionally led workshop on Saturday, June 2
nd
. All floral materials will be provided, as will lunch. For further information on the workshop and confirmation, contact Patrice D'Angelo at the Cathedral Office at 609-392-3805 or at 
patriceattrinity@aol.com
.

*This will be in place of a separate Spring diocesan-wide confirmation service this year. 
……
SPOTLIGHT ON: 
PROJECT RESOURCE WORKSHOP JUNE 9TH – REGISTER NOW!
What: Training in Project Resource's spiritual, practical, effective stewardship tools to grow giving in your congregation!
When:  Saturday June 9, 2018, 9:30am – 3:00pm
Where:  All Saints Church; 16 All Saints Rd, Princeton, NJ
Why: 
Assess your congregation's current approach to all aspects of financial stewardship
Name where you want to go
Develop strategies for moving forward
Be paired with a stewardship coach
Leave with at least one idea you can use – and more to bring back to your congregation
Address all three kinds of giving:

Annual (stewardship pledges)
Major (large gifts, capital campaigns, roof replacement drive)
Planned (will inclusions, endowment expansion, legacy societies
For more information: contact ProjectResource@dioceseofnj.org
Register Here:  https://tinyurl.com/ProjResource20180609
Are you 5-18 Years in Ministry? The VISION Program and Union Theological Seminary invites your application!
Thanks to generous funding from the Lilly Endowment, Union will launch its third cohort of the VISION program in the Fall of 2018.
The VISION program engages early/mid-career faith leaders (5 – 18 years in ministry) in a two-year collaborative program designed to support new ministries and build clergy relationships across denominations and religious traditions.
The VISION cohort meets monthly at Union in New York City during the academic term to collaborate and dialogue with civic leaders, academics and scholars, and other innovators from the non-profit and for-profit sectors. Each summer the group meets at a retreat to continue the conversation and work together. VISION fellows undertake a culminating congregational project supported by a cash grant from VISION and close collaboration with other fellows and mentors.
The deadline to apply is July 1, 2018. Visit https://utsnyc.edu/life/institutes/vision-program/ for more information and to apply online.
For more information, please contact VISION Director, The Rev. Jane Huber, PhD at:  jhuber@uts.columbia.edu
……
……
Upcoming Events and Openings at Crossroads Retreat Center and Camp
Open House
June 2
Come and visit Cross Roads Camp and Retreat Center to learn all about our summer and year-round opportunities. Take a tour of camp, hear stories about summer camp, ask questions, and finish with a delicious lunch in the Dining Hall.
Tours start at 10:30 am on each of the three dates. Register on the website.
http://crossroadsretreat.com/summer-programs/open-house/
Now Hiring for Summer Staff 2018!
Are you or a young adult you know looking for a life-changing summer experience? We are seeking passionate, dedicated, fun young adults to serve in various roles! Join our team for a summer of growing in your faith, helping shape the faith of others, and making unforgettable memories!
Download this flyer to share with your congregations or other young adults you know!
CHOIR ROBES TO CLAIM
Holy Trinity Episcopal Church of Wenonah has 20 maroon choir robes and collars which are no longer needed. The contact person is Margie McWilliams, 856-468-6664, if you have interest in these items.
SEEKING MUSICIANS AND SINGERS
Seeking musicians and singers, of whatever ability, who wish to explore contemporary praise and worship music together.  The goal would be to practice and render song and music that could move at least ourselves to deeper worship, and to experiment with how this might fit within our Episcopal context.    Hillsong United, Jesus Culture, Israel Houghton — the usual suspects.  Please contact the Rev. Shawn Armington at shawnarm@gmail.com.
Proclaiming Christ in the Garden State
609.394.5281
info@dioceseofnj.org
We are the Episcopal Branch of the Jesus Movement in the Southern 2/3 of New Jersey.
Social Share