---
FROM THE BISHOP:
Dear People of the Diocese of New Jersey,
Well done, good and trustworthy servant….enter into the joy of your master. Matthew 25:21
The Right Reverend George Edward Councell died on May 21, 2018 from complications resulting from a stroke.  We celebrated his life a few days later on Tuesday, May 29th, with a glorious service at Trinity Cathedral that was a fitting farewell and tribute to a servant of God who had done so much for so many in this diocese. Memorial Day Weekend fell between those two dates, adding to the challenges of organizing the event. There are many people to acknowledge and thank for their phenomenal work in planning and organizing events to praise God and honor Bishop Councell.
Dean Rene John was a diligent and caring pastor from the moment he was notified of Bishop George's stroke. He tended to Bishop George, to Ruth and their family with love, sensitivity and skill. Others also tended to the Councell family during the difficult few days leading to Bishop George's death:  Ron Pollock, Paul and Barbara Briggs, and Ricardo Sheppard.
Office Manager and Convention Coordinator Ann Notte and my Executive Assistant, Mary Ann Rhoads, along with Dean Rene John, Patrice D'Angelo and the staff and people of Trinity Cathedral framed out and organized the logistical details for the visitation that took place on Monday evening, May 28th, as well as the service and reception that took place on Tuesday the 29th.  They were supported by all the members of diocesan staff.
Trinity Cathedral Music Director Deborah Ford recruited and prepared the magnificent choir that sang at Tuesday's service. My deep thanks for choristers who came and sang from across the diocese. Dr. Kerry Heimann served not only as the organist, but recruited the chamber musicians and arranged the music they played. Taylor Ward of Doane Academy sang a beautiful rendition of Swing Low, Sweet Chariot, accompanied by Dr. Shelly Zuckerman, also of Doane. The lay leadership of Trinity Cathedral organized to host the visitors from across the diocese and the wider church.
Special kudos to the Reverend Valerie Balling who, working with me and Dean John, as we worked with Ruth Councell and Bishop George's children, prepared a beautiful liturgy. Valerie, along with Ann Notte, prepared the lovely worship booklet that was used at the service. Our Standing Committee on Liturgy, under Valerie's leadership, organized the flow of the liturgy and were there on Tuesday to assure that everything ran smoothly.
Archdeacon Pete Cornell and Rob Bullington did the technical work that allowed us to broadcast the service to the overflow sites of All Saints' Chapel and the Crypt of the Cathedral as well as record the service so that people not able to be with us would be able to view it online. Chris Gregory and Lee Whiteman served as photographers.
Special thanks go to the Reverend Michael Marrone, a longtime friend of Bishop George, who offered a personal tribute at the Visitation on Monday evening.  Similarly, thanks to the Right Reverend Alan Gates, Bishop of Massachusetts, whose tribute to Bishop George at the Tuesday service was poignant, personal and touching.  Our Presiding Bishop, the Most Reverend Michael Curry, delivered a stirring sermon that honored Bishop George as friend and a "true shepherd" whom we all knew.
Fr. Connor Haynes, Rector of St. Mary's Church in Burlington, was instrumental in helping to select and arrange for an appropriate final resting place for Bishop George at St. Mary's.  Bishop George is now the fourth Bishop of New Jersey to rest in that historic churchyard.
There are so many others who I know I am forgetting, please forgive me.  Your affection for Bishop George was evident in all that was done as we bid goodbye to him in this life.
George and Ruth's daughter Sarah shared a story that should have been included in the stories told this past Tuesday. In 2001, Sarah went to the Virginia Theological Seminary in Alexandria, Virginia to earn a Masters degree in Theological Studies.
As she tells it:
"I called Dad to talk about the course offerings. There were three introductory theology classes to choose from: 'God and Creation,' 'Jesus Christ and Salvation,' and 'The Spirit and the Church.'"
As soon as he heard that he said, 'Ooh. Pick Jesus.'
And that's just what I did."
Sarah wrote, "Dad is someone who entered the Kingdom of God as a little child. Sometimes that would come out in surprising moments like this one. I'm so grateful for his enthusiastic embrace of Jesus and for the great blessing of growing up in his house."
The Profile prepared for the election of the twelfth Bishop of New Jersey contained a section about Bishop George and his ministry.  It included this observation from one of our diocesan leaders:
"[Bishop Councell's] greatest achievement is the recognition that we can call on the name of Jesus …. For most of my life as an Episcopalian we have been careful to say, Lord or even Christ, but Bishop Councell has boldly proclaimed that Jesus is the one we love and He is the one who died on the cross for us. I love reclaiming the name of Jesus."
"Ooh, pick Jesus," Bishop George said to his daughter Sarah when she was at Virginia Theological Seminary.
"Ooh, pick Jesus,"  Bishop George said to everyone he met.  He exuded the love of Jesus.
We will miss him.  We give thanks he was among us as a true shepherd of the Good Shepherd.   Please keep Ruth, Sarah, Martha and the rest of the Councell family in your prayers.
Blessings and peace,




The Right Reverend William H. (Chip) Stokes, D.D.
Bishop of New Jersey
Bishop's Schedule Highlights
Friday, June 1, 2018:
Bishop's Study Day
6:00 p.m. Procter House, Princeton – ECP's Annual Reunion
Saturday, June 2, 2018:
10:30 a.m. St. David's Church, Cranbury – Leadership Retreat
Sunday, June 3, 2018:
10:30 a.m. Trinity Cathedral – Cathedral Sunday
5:00 p.m. Visitation:  St. George's-by-the-River, Rumson
Monday, June 4, 2018:
4:00 p.m. Zoom meeting – Cuba working group
Tuesday, June 5, 2018:
11:00 a.m. Diocese of Newark offices – Corporation of WWC meeting
Office appointments
 7:30 p.m. St. Matthew's Church, Pennington – Inquirers' class 
Wednesday, June 6, 2018:
Staff meeting – safety policy review
Office appointments
Thursday, June 7, 2018:
10:00 a.m. Interims meeting
Office appointments 
VIDEO, PHOTOS AND MORE FROM BISHOP COUNCELL'S FUNERAL
Here are a collection of memories from Tuesday's beautiful service:
Photos: The Funeral of the Right Reverend George E. Councell
Photos: Remembering Bishop Councell
Video: A Video Playlist of Selections from the Service
Text: The Tribute, by the Right Reverend Alan M. Gates, Bishop of the Diocese of Massachusetts
Service Bulletin
Please click here for more on the life of our beloved Bishop Councell.
We are so moved by the constant sharing of stories of our dear Bishop George; the Reverend Valerie Balling has shared a touching and brilliant reflection on Bishop Councell. We invite you to read this poignant writing, "Sighs Too Deep for Words," on her blog.
GOD STUFF AT GENERAL CONVENTION, OR WHY I'M GOING FOR THE SIXTH (!) TIME
by the Reverend Jack Zamboni
Each week, look for more stories about General Convention!
General Convention is ten very long days: 7:00 AM committee meetings, legislative sessions morning and afternoon, more evening events than you can take in, lots of walking from place to place, too many rushed meals, not enough sleep. A reasonable person might wonder if I'm a glutton for punishment to be preparing for my sixth GC in Austin, TX this July.
Why do I keep wanting to go back?  Well, I'm the son and brother of attorneys, so I actually enjoy navigating the ins and outs of the legislative process (see General Convention 101 in the May 11th edition of GNGS).  It doesn't hurt that I've been appointed to serve again on the legislative committee on Prayer Book, Liturgy and Church Music, a part of the Church's life that is close to my heart and where I have gifts to offer. But most deeply, I return to GC because I keep finding connections with God and God's people there.
Some of that happens in worship. Imagine sharing the Eucharist each day with 2,000 or more Episcopalians, in varied musical styles and multiple languages (including the exquisite beauty of sign language for the hearing impaired); listening to the best preachers in the Episcopal Church – Presiding Bishop and Royal Wedding rock star Michael Curry; his predecessor, Katharine Jefferts Schori, herself a great preacher (in a different style); Becca Stevens, founder of Thistle Farms, who spoke at our Diocesan Convention in 2017, and many more. And where but at a GC Eucharist could you hear the famous Widor Toccata as a postlude tossed back and forth between organ – a jazz band?
The rich diversity of worship at GC reflects the diversity of our Church, and I've encountered God again and again in sisters and brothers from all over the country and beyond (the Episcopal Church is in over a dozen countries worldwide).  I've heard God's voice when a seminary friend (instrumental in bringing me to the Diocese of New Jersey many years ago) yelled across the food court a mispronunciation of my name that had been broadcast on a hospital intercom when I was a chaplain intern in 1981. In a hotel bar in Anaheim, California, I met the grandson of a long past Rector of St. Andrew's, Plainfield (an ancestor parish of St. Francis', Dunellen where I now serve) who told me how his grandfather gave the stained-glass window now behind our altar in memory of his beloved deceased wife.  My friendship with our dear, departed Bishop George Councell took root at GC in 2003 when we spent a morning together in song and prayer under the leadership of Dr. Horace Boyer, General Editor of Lift Every Voice and Sing.
All of this came home for me in a very personal way in 2015. GC was eight months after my late wife Judith's death, and her birthday, June 25th, fell in the midst of Convention. On that day, I went to Eucharist with a seminary classmate then in Connecticut who was a few years ahead of me in mourning a beloved spouse and has been a treasured friend on that journey. Other friends from around the Church who knew the import of the day held me in prayer – and in their arms.
Two days later, I had lunch with a Native American priest I'd never met, but who knew some distant family connections I have in that community. We spoke of death and grief as experienced in his culture — all too frequently by suicide and disease on the South Dakota reservation where he serves. Yet what he told me about how the Lakota experience ongoing connection with departed loved ones was a great gift.
The next day, the Chaplain of the House of Deputies spoke about quantum entanglement – the startling concept in physics that once two subatomic particles become "entangled" with each other, they always remain so, mutually affecting each other no matter how far apart they may later find themselves.  The language was different than my Lakota colleague's, but in both, God spoke the same truth to my heart. And that Widor Toccata played by organ and jazz band?  That was the organ (only) postlude when Judith and I married, and again at her funeral – and she loved jazz.
It's very hard to imagine any place other than General Convention that all these pieces (and there are more I don't have space for) could have come together.  I know, of course, that God makes connections everywhere, because God is Connection, the Triune Dance of Divine Love we recently celebrated on Trinity Sunday.  But again and again, I've experienced God-given connections at General Convention in a way I seldom have elsewhere. That, above all, is why I'm glad I'm going to Austin.
Look for more reflections on General Convention every week this June and July!

……
Join Trinity Cathedral for its 

Annual Cathedral Sunday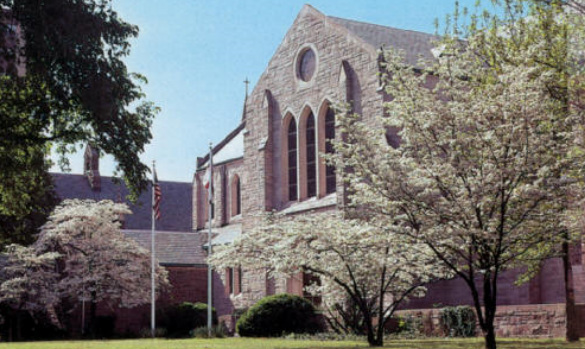 Bishop William H. Stokes enthusiastically invites parishioners throughout our Diocese to celebrate Cathedral Sunday on 
June 3, 2018
 by joining in worship in a special 
Flower
Festival
 Eucharist Service beginning at 
10:30 a.m.
The Cathedral will be decorated with numerous magnificent floral arrangements created by floral
ministries and parishioners throughout the Diocese at a floral workshop conducted the day before. Bishop Stokes will be the Celebrant, and the Reverend Canon Karin Mitchell of St. David's Cranbury will preach. Children from various parishes will read, lead prayers, and offer the elements. All are invited to a lite lunch immediately following the Eucharist highlighting the many vital urban ministries of Trinity Cathedral.

There will be a Cathedral scavenger hunt for the kids as well as docent-led tours of the magnificently adorned and historic Cathedral. All congregations have been encouraged to send representatives, especially youth, to worship at "their second home church," and all floral ministries and interested parishioners, regardless of skill level, are invited to participate in the free and professionally led workshop on Saturday, June 2nd. All floral materials will be provided, as will lunch.

*This will be in place of a separate Spring diocesan-wide confirmation service this year. 
……
SPOTLIGHT ON: 
PROJECT RESOURCE WORKSHOP JUNE 9TH – REGISTER NOW!
What: Training in Project Resource's spiritual, practical, effective stewardship tools to grow giving in your congregation!
When:  Saturday June 9, 2018, 9:30am – 3:00pm
Where:  All Saints Church; 16 All Saints Rd, Princeton, NJ
Why: 
Assess your congregation's current approach to all aspects of financial stewardship
Name where you want to go
Develop strategies for moving forward
Be paired with a stewardship coach
Leave with at least one idea you can use – and more to bring back to your congregation
Address all three kinds of giving:

Annual (stewardship pledges)
Major (large gifts, capital campaigns, roof replacement drive)
Planned (will inclusions, endowment expansion, legacy societies
For more information: contact ProjectResource@dioceseofnj.org
Register Here:  https://tinyurl.com/ProjResource20180609
Are you 5-18 Years in Ministry? The VISION Program and Union Theological Seminary invites your application!
Thanks to generous funding from the Lilly Endowment, Union will launch its third cohort of the VISION program in the Fall of 2018.
The VISION program engages early/mid-career faith leaders (5 – 18 years in ministry) in a two-year collaborative program designed to support new ministries and build clergy relationships across denominations and religious traditions.
The VISION cohort meets monthly at Union in New York City during the academic term to collaborate and dialogue with civic leaders, academics and scholars, and other innovators from the non-profit and for-profit sectors. Each summer the group meets at a retreat to continue the conversation and work together. VISION fellows undertake a culminating congregational project supported by a cash grant from VISION and close collaboration with other fellows and mentors.
The deadline to apply is July 1, 2018. Visit https://utsnyc.edu/life/institutes/vision-program/ for more information and to apply online.
For more information, please contact VISION Director, The Rev. Jane Huber, PhD at:  jhuber@uts.columbia.edu
……
……
Upcoming Events and Openings at Crossroads Retreat Center and Camp
Open House
June 2
Come and visit Cross Roads Camp and Retreat Center to learn all about our summer and year-round opportunities. Take a tour of camp, hear stories about summer camp, ask questions, and finish with a delicious lunch in the Dining Hall.
Tours start at 10:30 am on each of the three dates. Register on the website.
http://crossroadsretreat.com/summer-programs/open-house/
Now Hiring for Summer Staff 2018!
Are you or a young adult you know looking for a life-changing summer experience? We are seeking passionate, dedicated, fun young adults to serve in various roles! Join our team for a summer of growing in your faith, helping shape the faith of others, and making unforgettable memories!
Download this flyer to share with your congregations or other young adults you know!
……
Pet Adoption and Awareness Day at St. Raphael the Archangel, Brick.  Saturday June 9, 10 am – 3 pm.
Come join for a day of fun for the family and pets.  Rescue groups will be onsite if you are looking for a new pet.  Police Dog demonstration.  Vendors.  Food and fun!
http://www.straphaelbricknj.org/calendar-of-events/2018/5/19/pet-adoption-and-awareness-day
……

……
CLASSIFIED ADS
CHOIR ROBES TO CLAIM
Holy Trinity Episcopal Church of Wenonah has 20 maroon choir robes and collars which are no longer needed. The contact person is Margie McWilliams, 856-468-6664, if you have interest in these items.
SEEKING MUSICIANS AND SINGERS
Seeking musicians and singers, of whatever ability, who wish to explore contemporary praise and worship music together.  The goal would be to practice and render song and music that could move at least ourselves to deeper worship, and to experiment with how this might fit within our Episcopal context.    Hillsong United, Jesus Culture, Israel Houghton — the usual suspects.  Please contact the Rev. Shawn Armington at shawnarm@gmail.com.
Proclaiming Christ in the Garden State
609.394.5281
info@dioceseofnj.org
We are the Episcopal Branch of the Jesus Movement in the Southern 2/3 of New Jersey.
Social Share