---
FROM THE BISHOP:
Dear People of the Diocese of New Jersey,
I urge Euodia and I urge Syntyche to be of the same mind in the Lord. Yes, and I ask you also, my loyal companion, help these women, for they have struggled beside me in the work of the gospel, together with Clement and the rest of my co-workers, whose names are in the book of life….Philippians 4:2 – 3
I love reading Paul's Epistles because they offer us insight into a very human person laboring diligently to proclaim the Gospel and build Christ's Church. The letters that can most assuredly be attributed to Paul (1 Thessalonians, 1 and 2 Corinthians, Philippians, Galatians, Romans, Philemon) portray a wonderfully complex human being who could, in one moment be an inspired saint of the Church, and at another moment be petty and petulant.  It is through such people that God has always worked.
Paul's letters also give us great insight into the early church. There are hidden mysteries that we will never solve. Who were Euodia and Synteche, for example?   It is clear they were two women who were involved in a disagreement with one another.  We don't know the nature of the disagreement.  We don't know how it was resolved or if it was resolved. History doesn't answer this question for us.  We do know these two women were leaders.  The textual evidence from Paul's own hand testifies, that they were among those who "struggled" beside Paul "in the work of the Gospel."
Women leaders figured prominently in the ministry of Jesus and in the ministry of Paul.  Often the stories of their leadership were lost in history.
In 1871, The General Convention of the Episcopal Church authorized the Board of Missions of The Episcopal Church to create a Women's Auxiliary to the Board of Missions. At the time, women were not permitted to be voting members of General Convention, of diocesan conventions or of parish vestries.  The Women's Auxiliary was the place where women participated in the life of the wider church, providing a strong support role for the Church's mission.  The Women's Auxiliary eventually became Episcopal Church Women (ECW).
In the 1960s and 1970s, access to leadership in almost all levels of  The Episcopal Church were opened to women. Women sat on vestries, became wardens in churches, were elected as deputies to General Conventions and were ordained as priests and deacons in the church. In 1989, Barbara Harris was the first woman elected as a bishop in the church, when she was elected Bishop Suffragan of Massachusetts. In 2006, Katharine Jefferts Schori was the first woman to be elected Presiding Bishop of The Episcopal Church, symbolizing that no level of church leadership was closed to women.
Because leadership at every level of the church is now open to women, some wonder about the need for ECW.  I don't wonder at all.  As the #MeToo movement has challenged us, as issues of  human trafficking, especially sex trafficking, appall us, as women's rights in society continue to be eroded, as the leadership of women in the church continues to be undervalued,  as women's health issues and the challenges of too many women in poverty confront us, it is abundantly clear that a forum and body consisting of women for the sake of Christ's mission and ministry, not only to women, but to the whole church, remains critically important.
The Episcopal Church Women (ECW) of The Diocese of New Jersey will meet this Saturday for their Annual Meeting at Grace-St. Paul's, Mercerville.  I am grateful to ECW President Donna Friedel and the leadership of the ECW which recognizes the critical importance of organizing women to engage in Christ's mission, to work for the life of today's church and the world, to "struggle for the gospel."  Their work and ministry is a gift and grace that serves us all.
I hope all our parishes will keep the ECW Annual Meeting and United Thank Offering In-Gathering in their prayers this Saturday.  I also pray that all churches will work to strengthen existing ECW Chapters and build new ones where they don't exist.
Blessings and peace,


The Right Reverend William H. (Chip) Stokes, D.D.
Bishop of New Jersey
Bishop's Schedule Highlights
Friday, May 18, 2018:
10:00 a.m.               Trinity Cathedral: Memorial Service – Fr. Eric Brechner
Office appointments 
Saturday, May 19, 2018:
10:00 a.m.               Grace-St. Paul's Church, Mercerville – ECW Annual Meeting     
Sunday, May 20, 2018:
10:00 a.m.               Visitation:  Holy Trinity Church, Ocean City
  4:00 p.m.               Trinity Cathedral – Baccalaureate Service
Monday, May 21, 2018:
Bishop's Sabbath
Tuesday, May 22, 2018:
11:00 a.m.               Deans meeting
12:00 noon             Lunch with Deans
1:00 p.m.               Diocesan Council meeting
Office appointments
 6:30 p.m.               Cathedral Chapter dinner/meeting
Wednesday, May 23, 2018:
Staff and Oversight meetings
Thursday, May 24, 2018:
Offsite meeting
Office appointments
7:00 p.m.               St. Andrew's, Camden – meeting with leadership of Camden churches w/ Canon Phyllis Jones
THE ROYAL WEDDING TOMORROW: BISHOP CURRY TO PREACH, AND EVERYTHING YOU NEED TO KNOW…
The External Affairs Office of The Episcopal Church has released an EXCELLENT set of materials on tomorrow's Royal Wedding, featuring preaching by Presiding Bishop The Most Rev. Michael Bruce Curry. We hope you'll be watching the stream with us–fascinators and morningcoats are, of course, optional.
THE ROAD TO GENERAL CONVENTION: MEET YOUR DEPUTATION!
by Karen Bemis
Each week, we'll provide new insight into this year's General Convention. Here's our Deputation!
Every three years, our diocese sends a deputation to General Convention, the governing body of The Episcopal Church. Actually, General Convention constitutes only part of this event:  the Episcopal Church Women Triennial meets concurrently with General Convention, and many church interest groups, book publishers, vestment manufacturers, and others take advantage of this gathering of Episcopalians to hawk their wares.  So, from New Jersey goes not just the GC deputation but also ECW leaders, youth representatives, volunteers, and others.
I'd like to introduce you to New Jersey's deputation. It includes all bishops of the diocese and the clergy and lay deputies and alternates elected at prior Diocesan Conventions.   
While all bishops are eligible for a seat in the House of Bishops, only Bishop William Stokes will represent our diocese at this Convention.  As Bishop of the Diocese of New Jersey, Bishop Stokes spends much time meeting with diocesan groups, parishes and individuals.  His home parish is Trinity Cathedral, but most Sundays he leads worship at one of our many congregations.  Before we elected him bishop, he had served as 1st Alternate Clergy Deputy for Southeast Florida at the General Conventions of 2003 and as Clergy Deputy at 2006, 2009 and 2012.  During the last General Convention, Bishop Stokes served on the Standing Committee for United States Policy; he also found time to walk with the Bishops United Against Gun Violence during the 2015 General Convention. For this General Convention, Bishop Stokes has been appointed to chair the Legislative Committee on The Episcopal Church in Cuba.
Each diocese can elect up to four clergy and four lay deputies as well as up to four alternates in each order. Alternates can substitute for deputies at any session of the House of Deputies.  The New Jersey members include
Clergy Deputies: Jack Zamboni, Gail Bennett, Valerie Balling, and Scott Russell;
Clergy Alternates: Keith McCoy and Justin Falciani;
Lay Deputies: Paul Ambos, Noreen Duncan, Louis Cavaliere, and Wendy Blackman; and
Lay Alternates: Barbara Okamoto Bach, Thomas Szczerba, Marcus Gales, and Karen Bemis.
The Rev.  Jack Zamboni is rector of St. Francis' Church, Dunellen.  Jack has served our Diocese on Cathedral Chapter, as Chair of the Committee on Classification of Congregations, and Co-Chair of the Task Force on Restructure. He has been a deputy to the last 5 GCs and at this Convention will serve on the Legislative Committee on Prayer Book, Liturgy and Church Music.
The Rev. Gail L. Bennett, Dcn., serves as a deacon at Trinity Church, Asbury Park. Gail is a lifelong member of the diocese and was ordained deacon in 1985. Gail has served on many diocesan committees, including the Finance and Budget Committee. Gail was a deputy to General Convention in 2015 and alternate in 2006, 2009, and 2012.  Gail is highly dedicated to the work of the General Convention's Five Marks of Mission and brings the valued perspective of a deacon to that work.
The Rev. Valerie L. Balling is Rector of St. Barnabas Church in Monmouth Junction. She has been active in many aspects of the diocese; she is currently president of the Standing Committee. Valerie was a deputy to the General Convention from the diocese in 2012 and 2015, and both times was selected to serve on a Legislative Committee. She supports our deputation with her knowledge of the legislative process. In 2018, Valerie will serve on the Legislative Committee on Governance and Structure.
The Rev. Daniel Scott Russell serves as the Chaplain for the Episcopal Campus Ministry at Rutgers. In his 15 years of ordained ministry in three dioceses, Scott has served as chaplain, associate rector, and rector, being elected as chair of the Higher Ed Ministry Commission, and member of Executive Council, Commission on Ministry, Budget and Finance, Social Justice Task Force, LGBTQ Inclusion, and Diocesan Council. This will be Scott's first time at General Convention.
The Rev. W. Keith McCoy, Dcn., serves as a deacon at St. John's Church, Somerville and has been one of the Archdeacons of our Diocese.  He has previously served as an alternate deputy to General Convention in 2006 and 2015. He brings many years of service in this diocese to this office, as well as several years on the national level for the diaconate. As a part of our deputation, Keith hopes to promote the vision of servant ministry in all our discussions and decisions.
The Rev. Justin A. Falciani serves as rector of Christ Church, Somers Point. He has been elected to Diocesan Council and Disciplinary Board. He has successfully presided over a Parish Capital Campaign to expand ministries and outreach of Christ Church to the surrounding area. Justin is also a member of the Ethics Committee of Bacharach Institute for Rehabilitation in Galloway Township. This is his first GC.
Canon Paul Ambos, Esq., worships at Christ Church, New Brunswick.  Canon Ambos has been a lifelong member of the diocese and is an attorney practicing in the fields of commercial, corporate, real-estate, and canon law. He was elected alternate deputy to General Convention in 2009 and deputy in 2012 and 2015. He serves on various diocesan committees. He has been Chancellor of the Diocese of New Jersey since 2014.  Paul will join Bishop Stokes and Canon Duncan on the Legislative Committee on The Episcopal Church in Cuba.
Canon Noreen L. Duncan, a retired professor, worships at Trinity Church, Princeton, where she serves as a lay reader, chalice bearer, usher and member of PCOM. She also pledges as a member of Trinity Cathedral. Co-chair of the diocese's Anti-Racism Team, she is a member of the Anti-Racism Commission and a workshop facilitator. She has been a deputy to several previous General Conventions. Canon Duncan is lay representative to The Episcopal Church's Executive Committee.  She will join Paul Ambos and Bishop Stokes on the Legislative Committee on The Episcopal Church in Cuba.
Louis A. Cavaliere worships at Grace Church, Merchantville. Lou  is a retired US Naval Captain who also had a career with Keystone Shipping Co. of Philadelphia as a marine engineer and contracts manager. He serves Grace Church as Treasurer. Lou is a strong advocate for victims of human trafficking and has represented the Diocese of NJ MDG Task Force on the NJ Coalition against Human Trafficking and the United Nations Committee for Stopping Trafficking in Persons. Although this is his first time as a deputy to General Convention, Lou has been appointed to the Legislative Committee on Social Justice and United States Policy.
Wendy V. Blackman worships at St. Mark's, Plainfield. Wendy is a retired Critical Care Registered Nurse. Since joining St. Mark's in 1985, she has been involved as a Youth Group Leader and served on the Scholarship Committee, Vestry, Altar Guild and the Episcopal Church Women. She is a LEM. Currently, she is Chair of the Van Duzer Scholarship Committee, and she founded the Health Ministry at St. Mark's.  She is an active member of the Anti-Racism Commission, secretary to local chapter of the Union of Black Episcopalians (UBE), and has been involved with the youth of the diocese. She is currently on the Board of Mission, the Standing Committee, and the Commission on Black Ministry. This will be Wendy's first time at General Convention.
Barbara Okamoto Bach worships at St. Paul's, Westfield.  Barbie has been active in the diocese for more than 20 years, having served on the Standing Committee, Diocesan Council, Anti-Racism Commission and Team, and Environmental Commission as well as in national racial justice movements. She has been a LEM, vestrymember, outreach coordinator, and more. Barbie is a lifelong third-generation Episcopalian and former member of four dioceses.  This will be Barbie's first time at General Convention.
Thomas Szczerba worships at Christ Church, Toms River. He is an active member of Diocesan Young Adult Council and Youth Director at St. Uriel's, Sea Girt. He served on Diocesan Youth Council and many Christ Church ministries, often in leadership roles. He is currently a student at General Theological Seminary and continues in the discernment process for priesthood. Thomas brings a much needed Youth/Young Adult perspective to the Deputation.
Marcus A. Gales worships at Christ the King, Willingboro, where he is an active member and has served on the vestry. He has also served as a deputy to the Diocesan Convention and is currently serving on Diocesan Council. He attended the Diocese's Anti-Racism workshop. Marcus is a member of the UBE and is serving on the Commission on Black Ministry. He is retired from the United States Air Force. He served as an alternate deputy to the General Convention in 2015.
Dr. Karen G. Bemis worships at Christ Church, New Brunswick, where she leads the Audit Committee.  She spends most of her time conducting research in volcanology, oceanography, and data visualization. Karen has served on the vestry of Christ Church New Brunswick, on Diocesan Council, on the Board of Missions, and attended several Anti-Racism workshops. She strongly supports the Anti-Racism Commission. Karen was an alternate deputy in 2012 and a deputy in 2015 to General Convention, where she fell under the spell of the Five Marks of Mission.
Join Trinity Cathedral for its 

Annual Cathedral Sunday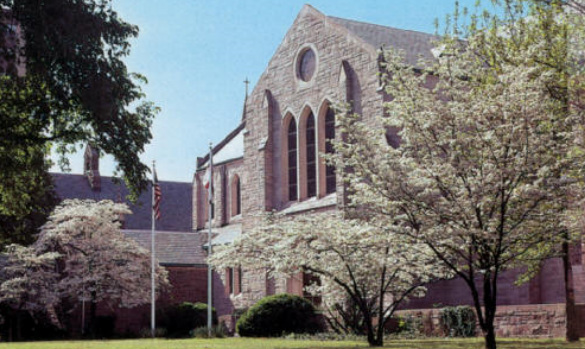 All congregations in the Diocese are invited to participate in the Trinity Cathedral's Cathedral Sunday confirmations on June 3, 2018 at 10:30 am. 
Please send names to Patrice D'Angelo at Trinity Cathedral no later than May 25th.  
Bishop William H. Stokes enthusiastically invites parishioners throughout our Diocese to celebrate Cathedral Sunday on 
June 3, 2018
 by joining in worship in a special 
Flower
Festival
 Eucharist Service beginning at 
10:30 a.m.
The Cathedral will be decorated with numerous magnificent floral arrangements created by floral
ministries and parishioners throughout the Diocese at a floral workshop conducted the day before. Bishop Stokes will be the Celebrant, and the Reverend Canon Karin Mitchell of St. David's Cranbury will preach. Children from various parishes will read, lead prayers, and offer the elements. All are invited to a lite lunch immediately following the Eucharist highlighting the many vital urban ministries of Trinity Cathedral. 

There will be a Cathedral scavenger hunt for the kids as well as docent-led tours of the magnificently adorned and historic Cathedral. All congregations have been encouraged to send representatives, especially youth, to worship at "their second home church," and all floral ministries and interested parishioners, regardless of skill level, are invited to participate in the free and professionally led workshop on Saturday, June 2
nd
. All floral materials will be provided, as will lunch. For further information on the workshop and confirmation, contact Patrice D'Angelo at the Cathedral Office at 609-392-3805 or at 
patriceattrinity@aol.com
.

*This will be in place of a separate Spring diocesan-wide confirmation service this year. 
……
SPOTLIGHT ON: 
PROJECT RESOURCE WORKSHOP JUNE 9TH – REGISTER NOW!
What:  comprehensive training in Project Resource's spiritual, practical, effective stewardship tools to grow giving in your congregation!
When:  Saturday June 9, 2018, 9:30am – 3:00pm
Where:  All Saints Church; 16 All Saints Rd, Princeton, NJ
Why: 
Assess your congregation's current approach to all aspects of financial stewardship
Name where you want to go
Develop strategies for moving forward
Be paired with a stewardship coach
Leave with at least one idea you can use – and more to bring back to your congregation
Address all three kinds of giving:

Annual (stewardship pledges)
Major (large gifts, capital campaigns, roof replacement drive)
Planned (will inclusions, endowment expansion, legacy societies
For more information: contact ProjectResource@dioceseofnj.org
Register Here:  https://tinyurl.com/ProjResource20180609
……
Rumson's Pet-Friendly Services in the News Again!
St. George's-by-the-River in Rumson offers pet-friendly services nine months out of the year.
Click here for the full story in the Asbury Park Press.
.
……
……
Upcoming Events and Openings at Crossroads Retreat Center and Camp
WOW! Women of the Woods
April 28
WOW! is a day for women of all ages to share the wonder and delight of new life. This new, one-day program will take place from 9 am until 4 pm on Saturday, April 28. The $25 registration includes a full day of activities and lunch. We welcome women of all ages to join us! Please register on the website.
www.crossroadsretreat.com/year-round-programs/wow/ 
Open House
May 19, June 2
Come and visit Cross Roads Camp and Retreat Center to learn all about our summer and year-round opportunities. Take a tour of camp, hear stories about summer camp, ask questions, and finish with a delicious lunch in the Dining Hall.
Tours start at 10:30 am on each of the three dates. Register on the website.
http://crossroadsretreat.com/summer-programs/open-house/
Now Hiring for Summer Staff 2018!
Are you or a young adult you know looking for a life-changing summer experience? We are seeking passionate, dedicated, fun young adults to serve in various roles! Join our team for a summer of growing in your faith, helping shape the faith of others, and making unforgettable memories!
Download this flyer to share with your congregations or other young adults you know!
St. Peter's, Spotswood is searching for a Parish Administrator.  This is a part time position (20 hours/week), Monday through Thursday, 9 a.m. to 2 p.m. A qualified candidate would bring a welcoming and helpful presence to the Parish Office and must be proficient with Microsoft Office software. Good organizational and communication skills are required. Prior church administration experience is a plus. Email your interest with cover letter and resume to administrator@stpetersspotswood.org  Application will be accepted through April 30th.
SEEKING LEVAS II
St. Thomas', Glassboro is looking to buy used copies of LEVAS II. Contact us if you have extra copies.
CHOIR ROBES TO CLAIM
Holy Trinity Episcopal Church of Wenonah has 20 maroon choir robes and collars which are no longer needed. The contact person is Margie McWilliams, 856-468-6664, if you have interest in these items.
Proclaiming Christ in the Garden State
609.394.5281
info@dioceseofnj.org
We are the Episcopal Branch of the Jesus Movement in the Southern 2/3 of New Jersey.
Social Share