Trinity Church, Asbury Park
---
FROM THE BISHOP:
Dear People of the Diocese of New Jersey,
….when you were buried with him in baptism, you were also raised with him through the power of God, who raised him from the dead….Colossians 2:12
As those who follow my Facebook page know, Susan and I have been blessed with the birth of our third grandchild. Lora Ann Stokes was born to John and Natalie on April 12 at 5:24 PM in Hollywood, Florida. She weighed in at 7 lbs., 1 oz and 20.1 inches in length. She is a beautiful, healthy baby and our daughter-in-law Natalie came through labor well. Susan and I had the great joy of being with John and Natalie, as well as with Natalie's parents, Arol and Dulce, for Lora Ann's birth.  e give thanks to God for the blessings of it all.  We are also deeply thankful for the prayers and thanksgivings that have been lifted up for our family across the diocese and wider Church.
During the flight to Florida, and as we awaited Lora's birth, I decided to read Gaudete et Exsultate – Rejoice and Be Glad, a very recent "Apostolic Exhortation" from Pope Francis.  It was released on March 19, 2018, the Feast of St. Joseph and is available on-line or can be purchased as a book or e-book.
The Pope is a universal symbol of Christianity in a way that no other person is a symbol of a religious tradition.  I believe all Christians should pray for a good Pope because of this, whether or not one accepts the office or teaching of the Roman Catholic Church.
In this work, the Pope is calling the faithful to "holiness in today's world," writing:  "Yet with this Exhortation I would like to insist primarily on the call to holiness that the Lord addresses to each of us, the call that he also addresses personally, to you: 'Be holy, for I am holy" (Lev 11:44; cf. 1 Peter 1:16).  His "modest goal" is to repropose the call to holiness in a practical way for our own time, with all its risks, challenges and opportunities."[i]
I found the Pope's treatise to be readable, hopeful, inspiring, clear and accessible.  It is firmly grounded in Scripture and in the traditions of the Church. Francis included quotes from many saints of the Catholic Church, some of which I knew, and some of which I didn't.
The Pope's apostolic exhortation urges that the Christian life is an active life of prayer and service lived in the daily exchanges, challenges and experiences we have: "The Holy Spirit bestows holiness in abundance among God's people, for 'it has pleased God to make men and women holy and to save them, not as individuals without any bond between them, but rather as a people who might acknowledge him in truth and serve him in holiness."[ii]  Above all, Francis underscores that the Christian life of holiness is a life lived with and in abundant love – the abundant love of God in Jesus Christ.
Through this work, the Pope enjoins the faithful to be particularly mindful of the marginalized – the poor and the oppressed, the sick, refugees and prisoners – for whom Jesus had particular care and concern.  He encourages Jesus' followers to meditate, reflect on and engage the Sermon on the Mount, particularly the Beatitudes, as well as with Matthew 25: 31 – 40: The Judgement of the Nations – in order to live lives of true discipleship in "the light of the Master."  He also critiques the consumerist and hedonistic culture of our world which dehumanizes us all.
As we continue to celebrate the Great Fifty Days of Easter and the joyful news of the Lord's resurrection, I believe Pope Francis's Apostolic Exhortation invites us all to ask the questions, "What is the meaning of this resurrection?  How is Jesus raised in me?"
It strikes me that small groups in our churches of the Diocese of New Jersey would benefit from reading and discussing Gaudete et Exsultate – Rejoice and be glad together.  What better way to celebrate Easter?
Alleluia! Christ is risen.
The Lord is risen, indeed.  Alleluia!
May the Lord continue to be raised in us all.
Blessings and peace,


The Right Reverend William H. (Chip) Stokes, D.D.
Bishop of New Jersey
[i] Pope Francis, Gaudete et Exsultate – Rejoice and be glad – An Apostolic Exhortation – Rome: Libreria Editrice Vatican – Kindle location 31
[ii] Ibid. Kindle locations 47-54
Bishop's Schedule Highlights
Saturday, April 14, 2018:
11:00 a.m.               Holy Apostles' Church, Yardville – Vestry meeting
  5:30 p.m.               Visitation:  Christ Church, Riverton              
Sunday, April 15, 2018:
9:30 a.m. Visitation:  Holy Apostles' Church, Yardville 
3:00 p.m. Trinity Cathedral – Recovery Ministries Service
                                Preacher:  Dcn. Judith Krom
Monday, April 16, 2018:
Bishop's Sabbath
Tuesday, April 17, 2018:   
10:00 a.m.               Deans meeting
12:00 noon            The Episcopal Church in Cuba Working Group Tele/Web conference call
  1:00 p.m.               Diocesan Council
Office appointments
  6:00 p.m.               Campus Ministry Foundation
Wednesday, April 18, 2018:
Staff meeting and Oversight meeting
Office appointments
7:00 p.m. Holy Trinity Church, Ocean City Vestry meeting 
Thursday, April 19, 2018:
10:00 a.m.               Trustees meeting
Office appointments
  2:30 p.m.               DIT meeting
  5:00 p.m.               Standing Committee meeting
Upcoming Diocesan and Congregational Events
……
St. Thomas' Church, Alexandria to Present Special Concert Event at Church of the Holy Spirit in Lebanon
Internationally Acclaimed (and Frenchtown, NJ local) Duo Present Their Newly Released Collaboration of "Moonlight in Empty Rooms." Save the Date! Saturday, April 28th. Concert and art presentation, featuring pianist, Heidi Breyer-Volkov and artist, Alexander Volkov, and silent auction.
"Heidi has created a deeply visceral and musical analysis of Alexander's art, and together they deliver a singular experience that is not to be missed." (Will Ackerman, Grammy-winning guitarist, producer and Founder of Windham Hill Records.)
Silent auction to feature three signed and numbered giclees by Alexander Volkov, each valued between $1,500 – $3,000. Other auction items include "A Day at the Races" at Monmouth Park, an airplane ride for three adults, local golf packages and more. Click here for tickets and more.
……
….
……
Taking the Church into the World at Rutgers Day
April 28
The Diocesan Animal Welfare Ministry will be present at the Cook Campus Rutgers Day event on Saturday April 28th.  (https://rutgersday.rutgers.edu)
We will be representing the Diocese of New Jersey with our animal welfare table display, and we look forward to a very busy, joyful and fruitful day interacting with the event-goers!  Please contact Deacon Chris Cox if you are interested in participating.
……
 ……..
 ……
High School Seniors and Undergraduates: Apply for the 

ECW 

Student Service Award!
This award is strictly for graduating high school seniors and students currently enrolled in undergraduate studies at a college or university. Students may apply beginning in their senior year and each year that they are enrolled in full-time undergraduate studies. Criteria to be considered in granting awards include: service to the church and service to the community. Please note that this award is open to all genders.
This application and two letters of reference noted below must be postmarked or emailed to the 
ECW
 Student Service Award Chairperson, Mrs. Carol Seale Council, by 
April 15, 2018
. Applicants are responsible for ensuring that letters of recommendation are sent by the deadline.
The Third Sunday in May is Now ECW Sunday!
RESOLUTION 2018-3:
Subject:  The support and acknowledgment of the work of Episcopal Church Women in the Diocese each year with the third Sunday of May being proclaimed "

ECW

 Sunday" throughout the Diocese of New Jersey
Be it resolved, That the 234th Convention of the Diocese of New Jersey support and appreciate the work and ministry of 

ECW

 throughout the Diocese and, in acknowledgement thereof, hereby designates the third Sunday in May to be "

ECW

 Sunday" from this Convention and on into the future, and be it,
Further resolved, That parishes throughout the Diocese of New Jersey demonstrate their support of 

ECW

 with prayer and designated collections to be used by the Diocesan 

ECW

 to further its work of mission and ministry.
The Prayer for the Episcopal Church Women:
Almighty God, we pray that You will bless our work in mission and ministry in the world. Help us to pray fervently, labor diligently and give liberally to make known the power of your love given through your son Jesus. Let us not forget the lessons from the past nor fear the challenges of the future. Anoint us with your grace and shine in our hearts as we reflect your light throughout this world.
……
Upcoming Events and Openings at Crossroads Retreat Center and Camp
WOW! Women of the Woods
April 28
WOW! is a day for women of all ages to share the wonder and delight of new life. This new, one-day program will take place from 9 am until 4 pm on Saturday, April 28. The $25 registration includes a full day of activities and lunch. We welcome women of all ages to join us! Please register on the website.
www.crossroadsretreat.com/year-round-programs/wow/ 
Open House
April 21, May 19, June 2
Come and visit Cross Roads Camp and Retreat Center to learn all about our summer and year-round opportunities. Take a tour of camp, hear stories about summer camp, ask questions, and finish with a delicious lunch in the Dining Hall.
Tours start at 10:30 am on each of the three dates. Register on the website.
http://crossroadsretreat.com/summer-programs/open-house/
Now Hiring for Summer Staff 2018!
Are you or a young adult you know looking for a life-changing summer experience? We are seeking passionate, dedicated, fun young adults to serve in various roles! Join our team for a summer of growing in your faith, helping shape the faith of others, and making unforgettable memories!
Download this flyer to share with your congregations or other young adults you know!
http://crossroadsretreat.com/employment/
……
Join Trinity Cathedral for its 

Annual Cathedral Sunday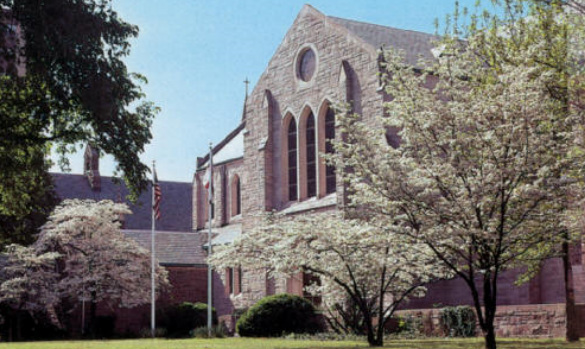 All congregations in the Diocese are invited to participate in the Trinity Cathedral's Cathedral Sunday confirmations on June 3, 2018 at 10:30 am. 
Please send names to Patrice D'Angelo at Trinity Cathedral no later than May 25th.  
*This will be in place of a separate Spring diocesan-wide confirmation service this year. 
……
SPRING 2018 BISHOP'S FORUM SCHEDULE
DATE
TIME
CONVOCATION
LOCATION

Tuesday

April 24, 2018

3:00 – 5:00 p.m. –  clergy

7:00 – 9:00 p.m. – lay

Monmouth

Christ Church

Toms River

Thursday

April 26, 2018

3:00 – 5:00 p.m. –  clergy

7:00 – 9:00 p.m. – lay

Northern

Trinity Church

Woodbridge

Tuesday

May 1, 2018

3:00 – 5:00 p.m. –  clergy

7:00 – 9:00 p.m. – lay

Camden

Grace Church

Merchantville

Wednesday

May 2, 2018

3:00 – 5:00 p.m. –  clergy

7:00 – 9:00 p.m. – lay

Woodbury

Christ Church

Woodbury

Wednesday

May 9, 2018

3:00 – 5:00 p.m. –  clergy

7:00 – 9:00 p.m. – lay

Burlington

Trinity Church

Moorestown
……
NEW JERSEY COUNCIL OF CHURCHES
Opioids: The Next Step
Saturday, April 21, 2018; 8:30 – 2:00
Trinity Cathedral
Keynote Speaker: Daniel B. Hinshaw, M.D.
Emeritus Professor of Surgery
University of Michigan School of Medicine
Workshops will include:
· Funding of Prevention and Treatment
· Legal Issues—Statutory Reform related to Opioid Addiction
· Holistic Approaches to Treatment
· The Spiritual Dimension of Addiction
$15* in advance (payment can be made at the door)
$20* on day of conference
*includes morning coffee/bagels and lunch
Advance payment can be made by check payable to:
NJCC, P.O. Box 10371, Trenton, NJ 08650
……
PART-TIME ADMINISTRATIVE ASSISTANT POSITION
St. Mary's, Burlington part-time, permanent, Administrative Assistant, 15 hours per week position. Working days/hours would be Monday, Tuesday and Thursday from 9 a.m. to 2 p.m. Mastery of word processing, publications and spreadsheets (specifically Microsoft Office programs) as well as familiarity with online forms of communication such as websites and other forms of social media required. Prior church administration experience desirable.

Send a resume to The Rev. J. Connor Haynes by email or mail to 145 West Broad Street, Burlington, NJ 08016.

SEEKING KEYBOARDIST
The faithful people of Saint James' Episcopal Church, Edison, are looking for a keyboardist to join our community and lead our music ministry.  We have a Jupiter-80 available to play – a nearly full-sized keyboard with lots of sound options.  The successful candidate will appreciate the important role music plays in the worship life of a church community.  We are a small but kind group of people who loves to sing!  There is money in the church budget to pay the keyboardist on a pro-rated annual basis.  We hope to have someone in place soon after Easter.  If you are interested, please contact Mother Kristen, Priest-in-Charge, at revkfoley@gmail.com or 732-985-2023. 

SEEKING INFORMATION ABOUT ELECTRONIC GIVING

St. Francis, Dunellen, is exploring setting up an electronic giving system If your congregation is using such a system, please

contact them

with the following: Name and contact info of the service you use, fees/costs involved for parish and/or donor, rough percentage of households that use this option, pros and cons, anything else we should know.

.

SEEKING LEVAS II

 ……
Holy Trinity Episcopal Church of Wenonah has 20 maroon choir robes and collars which are no longer needed. The contact person is Margie McWilliams, 856-468-6664, if you have interest in these items.
Proclaiming Christ in the Garden State
609.394.5281
info@dioceseofnj.org
We are the Episcopal Branch of the Jesus Movement in the Southern 2/3 of New Jersey.
Social Share