A FRIENDLY VISITOR COMES TO CHRIST CHURCH, BORDENTOWN, NJ

---
FROM THE BISHOP:
Dear People of the Diocese of New Jersey,
And will not God grant justice to his chosen ones who cry to him day and night?
Luke 18:7
April 4th was the 50th Anniversary of the assassination of Dr. Martin Luther King, Jr., Minister of the Gospel, Civil Rights Activist and Martyr, Nobel Peace Prize Winner.  His death is a tragic marker in the life of this nation.  I was 11 years old and a student at St. Thomas Choir School when Dr. King was killed.  An African-American classmate, tears streaming down his face, said to me through his tears, "Martin Luther King has just been shot." It is an image I recall each year on April 4th.
Last week, as part of our ongoing work in Discerning Our Common Call, we began the spring series of Bishop's Forums (a schedule is available further down in this newsletter).  During these forums, we are engaging in conversation about Anglican Mark of Mission #4  To seek to transform unjust structures of society, to challenge violence of every kind and to pursue peace and reconciliation. As we have done previously, we are grounding the conversation in Scripture by "Dwelling in the Word."   For the spring Bishop's Forums we are using Luke 18:1-18, the Parable of the Unjust Judge.  Included in that passage is the verse: And will not God grant justice to his chosen ones who cry to him day and night? 
At one of the recent sessions, someone asked, "Who are the chosen ones?"  It's an intriguing question.
Certainly for too many people in our nation, justice has been elusive. For far too long, poor people, people of color, especially African-Americans and Native Americans have cried to the Lord day and night for justice.  Yet their cries seem to go unanswered as the three evils of racism, poverty and militarism that Martin Luther King Jr, identified and preached against 50 years ago continue to do violence to millions of people each and every day.
At Easter, many of us renewed our Baptismal Promises which included our commitment to "seek and serve Christ in all persons, loving our neighbor as our self," and to "strive for justice and peace among people and respect the dignity of every human being."  How seriously do we take these promises? What is our role as people of faith?  What is our role and responsibility as members of Christ's body, the Church?  How can engage in justice work in our communities and as a diocese?
These are the questions we will discuss during Bishop's forums.  I hope you will join me in this vitally important conversation.  Mindful that young people are crying out day and night for justice in this country, I hope young people will come to the Bishop's forums and be part of the conversation.  I encourage adult church leaders – clergy and lay alike – to help get young people involved.  We need to hear their voices.  We need to hear their cries.
Blessings and peace,


The Right Reverend William H. (Chip) Stokes, D.D.
Bishop of New Jersey
Bishop's Schedule Highlights
Monday, April 9, 2018:
Bishop's Sabbath
Tuesday, April 10, 2018:
Outside appointment
St. Matthew's Church, Pennington – Trenton Convocation
3:00 p.m. Clergy Forum
7:00 p.m. Lay Forum            
Wednesday-Friday, April 11-13, 2018:
Out of office         
Upcoming Diocesan and Congregational Events
Featured Events and Notices
Saints & Soldiers Step Team Easter Performance at St. Mark's, Plainfield
The St. Mark's Praise Dancers and the Saints & Soldiers Step team added a special spark to Easter worship.  We thank all the dancers, along with their leader, Mrs. Nicole Daniel, and the steppers and their leader, Ms. Dara Govan for their beautiful presentations. 
Click here for video of the performance on YouTube
!
……
Taking the Church into the World at Rutgers Day
April 28
The Diocesan Animal Welfare Ministry will be present at the Cook Campus Rutgers Day event on Saturday April 28th.  (https://rutgersday.rutgers.edu)
We will be representing the Diocese of New Jersey with our animal welfare table display, and we look forward to a very busy, joyful and fruitful day interacting with the event-goers!  Please contact Deacon Chris Cox if you are interested in participating.
……
 ……
St. John's Episcopal Church invites public to honor
first responders, police, others at Appreciation Day April 26 
On Thursday, April 26, St. John's Episcopal Church will host Appreciation Day to recognize, honor and thank all community and first responders including the Somerville Police Department, Somerville Fire Department, Somerville First Aid Squad, EMT, Sheriff's Office, and other law enforcement and community volunteers.
"Too often we take for granted the act that these faithful souls are serving to protect us around the clock and many times under dangerous conditions," explained the Rev. Ronald Pollock, rector of St. John's. "It is good and right to gather together to demonstrate our appreciation and honor each one of them."
Appreciation Day will begin at 5 pm at St. John's with an interfaith service of prayer with invited guests from the Somerset County Chosen Freeholders, Somerset County Prosecutor's Office, Somerset County Sheriff's Office, Somerset Pipe & Drums, Honor & Color Guard, Somerville mayor and council, and area religious leaders. 
A free dinner, catered by Somerville area restaurants, will be held after the Appreciation service in the parish hall. 
Pollock, who serves as the chaplain to the Somerville Fire Department, stressed that the service will honor all active, retired, and deceased members from each group.
For more information: www.StJohnSomerville.org
……
 ……..
 ……
High School Seniors and Undergraduates: Apply for the 

ECW 

Student Service Award!
This award is strictly for graduating high school seniors and students currently enrolled in undergraduate studies at a college or university. Students may apply beginning in their senior year and each year that they are enrolled in full-time undergraduate studies. Criteria to be considered in granting awards include: service to the church and service to the community. Please note that this award is open to all genders.
This application and two letters of reference noted below must be postmarked or emailed to the 
ECW
 Student Service Award Chairperson, Mrs. Carol Seale Council, by 
April 15, 2018
. Applicants are responsible for ensuring that letters of recommendation are sent by the deadline.
The Third Sunday in May is Now ECW Sunday!
RESOLUTION 2018-3:
Subject:  The support and acknowledgment of the work of Episcopal Church Women in the Diocese each year with the third Sunday of May being proclaimed "

ECW

 Sunday" throughout the Diocese of New Jersey
Be it resolved, That the 234th Convention of the Diocese of New Jersey support and appreciate the work and ministry of 

ECW

 throughout the Diocese and, in acknowledgement thereof, hereby designates the third Sunday in May to be "

ECW

 Sunday" from this Convention and on into the future, and be it,
Further resolved, That parishes throughout the Diocese of New Jersey demonstrate their support of 

ECW

 with prayer and designated collections to be used by the Diocesan 

ECW

 to further its work of mission and ministry.
The Prayer for the Episcopal Church Women:
Almighty God, we pray that You will bless our work in mission and ministry in the world. Help us to pray fervently, labor diligently and give liberally to make known the power of your love given through your son Jesus. Let us not forget the lessons from the past nor fear the challenges of the future. Anoint us with your grace and shine in our hearts as we reflect your light throughout this world.
……
Upcoming Events and Openings at Crossroads Retreat Center and Camp
WOW! Women of the Woods
April 28
WOW! is a day for women of all ages to share the wonder and delight of new life. This new, one-day program will take place from 9 am until 4 pm on Saturday, April 28. The $25 registration includes a full day of activities and lunch. We welcome women of all ages to join us! Please register on the website.
www.crossroadsretreat.com/year-round-programs/wow/ 
Open House
April 21, May 19, June 2
Come and visit Cross Roads Camp and Retreat Center to learn all about our summer and year-round opportunities. Take a tour of camp, hear stories about summer camp, ask questions, and finish with a delicious lunch in the Dining Hall.
Tours start at 10:30 am on each of the three dates. Register on the website.
http://crossroadsretreat.com/summer-programs/open-house/
Now Hiring for Summer Staff 2018!
Are you or a young adult you know looking for a life-changing summer experience? We are seeking passionate, dedicated, fun young adults to serve in various roles! Join our team for a summer of growing in your faith, helping shape the faith of others, and making unforgettable memories!
Download this flyer to share with your congregations or other young adults you know!
http://crossroadsretreat.com/employment/
……
Join Trinity Cathedral for its 

Annual Cathedral Sunday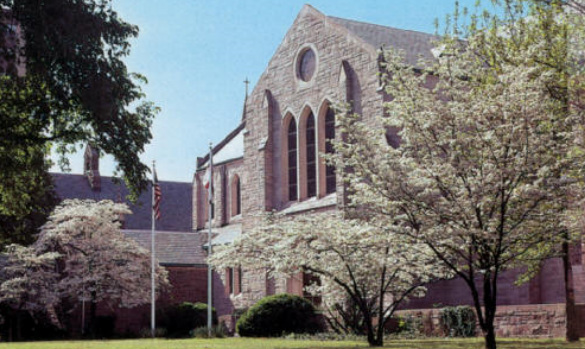 All congregations in the Diocese are invited to participate in the Trinity Cathedral's Cathedral Sunday confirmations on June 3, 2018 at 10:30 am. 
Please send names to Patrice D'Angelo at Trinity Cathedral no later than May 25th.  
*This will be in place of a separate Spring diocesan-wide confirmation service this year. 
……
SPRING 2018 BISHOP'S FORUM SCHEDULE
DATE
TIME
CONVOCATION
LOCATION

Wednesday

April 4, 2018

3:00 – 5:00 p.m. –  clergy

7:00 – 9:00 p.m. – lay

Watchung

St. Mark's

Basking Ridge

Thursday

April 5, 2018

3:00 – 5:00 p.m. –  clergy

7:00 – 9:00 p.m. – lay

Atlantic

Holy Trinity

Ocean City

Tuesday

April 10, 2018

3:00 – 5:00 p.m. –  clergy

7:00 – 9:00 p.m. – lay

Trenton

St. Matthew's

Pennington

Tuesday

April 24, 2018

3:00 – 5:00 p.m. –  clergy

7:00 – 9:00 p.m. – lay

Monmouth

Christ Church

Toms River

Thursday

April 26, 2018

3:00 – 5:00 p.m. –  clergy

7:00 – 9:00 p.m. – lay

Northern

Trinity Church

Woodbridge

Tuesday

May 1, 2018

3:00 – 5:00 p.m. –  clergy

7:00 – 9:00 p.m. – lay

Camden

Grace Church

Merchantville

Wednesday

May 2, 2018

3:00 – 5:00 p.m. –  clergy

7:00 – 9:00 p.m. – lay

Woodbury

Christ Church

Woodbury

Wednesday

May 9, 2018

3:00 – 5:00 p.m. –  clergy

7:00 – 9:00 p.m. – lay

Burlington

Trinity Church

Moorestown
……
NEW JERSEY COUNCIL OF CHURCHES
Opioids: The Next Step
Saturday, April 21, 2018; 8:30 – 2:00
Trinity Cathedral
Keynote Speaker: Daniel B. Hinshaw, M.D.
Emeritus Professor of Surgery
University of Michigan School of Medicine
Workshops will include:
· Funding of Prevention and Treatment
· Legal Issues—Statutory Reform related to Opioid Addiction
· Holistic Approaches to Treatment
· The Spiritual Dimension of Addiction
$15* in advance (payment can be made at the door)
$20* on day of conference
*includes morning coffee/bagels and lunch
Advance payment can be made by check payable to:
NJCC, P.O. Box 10371, Trenton, NJ 08650
……
PART-TIME ADMINISTRATIVE ASSISTANT POSITION
St. Mary's, Burlington part-time, permanent, Administrative Assistant, 15 hours per week position. Working days/hours would be Monday, Tuesday and Thursday from 9 a.m. to 2 p.m. Mastery of word processing, publications and spreadsheets (specifically Microsoft Office programs) as well as familiarity with online forms of communication such as websites and other forms of social media required. Prior church administration experience desirable.

Send a resume to The Rev. J. Connor Haynes by email or mail to 145 West Broad Street, Burlington, NJ 08016.

SEEKING KEYBOARDIST
The faithful people of Saint James' Episcopal Church, Edison, are looking for a keyboardist to join our community and lead our music ministry.  We have a Jupiter-80 available to play – a nearly full-sized keyboard with lots of sound options.  The successful candidate will appreciate the important role music plays in the worship life of a church community.  We are a small but kind group of people who loves to sing!  There is money in the church budget to pay the keyboardist on a pro-rated annual basis.  We hope to have someone in place soon after Easter.  If you are interested, please contact Mother Kristen, Priest-in-Charge, at revkfoley@gmail.com or 732-985-2023. 

SEEKING INFORMATION ABOUT ELECTRONIC GIVING

St. Francis, Dunellen, is exploring setting up an electronic giving system If your congregation is using such a system, please

contact them

with the following: Name and contact info of the service you use, fees/costs involved for parish and/or donor, rough percentage of households that use this option, pros and cons, anything else we should know.

.

SEEKING LEVAS II

 ……
Holy Trinity Episcopal Church of Wenonah has 20 maroon choir robes and collars which are no longer needed. The contact person is Margie McWilliams, 856-468-6664, if you have interest in these items.
Proclaiming Christ in the Garden State
609.394.5281
info@dioceseofnj.org
We are the Episcopal Branch of the Jesus Movement in the Southern 2/3 of New Jersey.
Social Share