TRINITY CHURCH
PRINCETON, NJ

---
FROM THE BISHOP:
Dear People of the Diocese of New Jersey,
He has been raised; he is not here! Mark 16:6
For the first time since 1956, Easter Day fell on April Fools' Day.  How appropriate!  After all, we were duped!  We were sent out on a fool's errand.  "Go to the tomb," we were told.  And to the tomb we went, along with Mary Magdalen and some other women.  But when we arrived at the tomb, we found it empty.  April Fools!
I celebrated and preached at Trinity Cathedral this Easter.  We heard Mark's account of Easter morning.  In that Gospel reading, a man dressed in white said to the women, 'Do not be alarmed; you are looking for Jesus of Nazareth, who was crucified. He has been raised; he is not here. Look, there is the place they laid him. But go, tell his disciples and Peter that he is going ahead of you to Galilee; there you will see him, just as he told you.'
Most contemporary biblical scholars believe that Mark's Gospel originally ended at chapter 16, verse 8 which says,  So they went out and fled from the tomb, for terror and amazement had seized them; and they said nothing to anyone, for they were afraid. 
They said nothing?  To anyone?  Then how do we know about all this?  And what about Jesus?  Where is he?
Mark's account of Easter strikes many as a little odd.  Jesus never makes an appearance.  There is only assertion of Easter from a young man dressed in a white robe sitting in the tomb, "He is not here; he has been raised"  (Mark 16:5).  Clearly this young man is an angelic messenger.
After telling the women that Jesus has been raised, the young messenger offers them an assurance, "He is going ahead of you to Galilee; there you will see him just as he told you" (Mark 16:7).  Jesus is spoken of, his resurrection is proclaimed, his appearance anticipated, but he himself doesn't show up.  Is this an April Fools' joke?
It's a strange way to end the Gospel. It's a cliff-hanger.  We want to know what happened after that?  Mark doesn't tell us. The other Gospels – Matthew. Luke and John –  included resurrection appearances in their accounts. Not Mark.  How come? There have been many arguments about why Mark ended his gospel in the way that he did.
Some suggest he ended this way because he expected the Second Coming of Jesus imminently.  "Wait," he was saying with this cliff-hanger ending, "Wait, he is coming at unexpected hour…Watch!"  It's a good argument.
There were some who were apparently so concerned about Mark's abrupt ending that they wrote endings for him to finish the story. Reputable Bibles include more than one ending for Mark.  Most scholars believe that these alternative endings don't come from the original Mark.  What is the answer to this mystery?
What if Mark intended to end his Gospel just the way he did?   The Oxford Bible Commentary suggests this, stating, "Mark's narrative may be only the beginning of the gospel…The rest of the gospel must be completed by the reader, but the reader can only complete the story by following as a disciple of Mark's Jesus, and that means going to Galilee, being prepared to follow the way of discipleship as spelt out by him, i.e. the way of the cross…There, and only there, will Jesus be seen and experienced…"
"Maybe Mark's gospel is unfinished," they conclude.  "But perhaps that is deliberate.  It is up to the reader to supply the ending – and that is the perennial challenge of this gospel to all its readers today."[1]
As wondrous and powerful as the accounts of Easter are in Matthew, Luke and John, they are still about the encounter others had with the risen Christ.  That's not unimportant.  They provide insights that invite understanding.  When all is said and done, however, what really matters is the encounter each and every one of us has with the risen Christ. This is what Easter faith is about:  Has Christ been raised in you?  Does he live and breathe in you?  Does his deep love for you and for all humanity, fill your soul?  Is his resurrected Spirit, his very real presence the animating reality of your life?  And with Christ's presence living in you, raised in you, will you go forth and be his hands and feet and ears and eyes serving the world in his name; loving the world, in all of its brokenness, in his name?
As the baptized, we are all called to be apostles; those sent out in Jesus' name and love.  We are called to be "the body of Christ," his resurrected presence in the world.  St. Paul described this ministry in a way that is perfect for us this Easter. Paul said that apostles are Fools for the sake of Christ (1 Corinthians 4:10).  
Go forth! Be fools for the sake of Christ this Easter season.  Go out and be fools for Christ every day.
Happy Easter!
Blessings and peace in Christ,


The Right Reverend William H. (Chip) Stokes, D.D.
Bishop of New Jersey
[1] The Oxford Bible Commentary  ed. John Barton and John Muddiman (Oxford:  Oxford University Press, 2001) 922.
Bishop's Schedule Highlights
Tuesday, April 3, 2018:
Office appointments 
Wednesday, April 4, 2018:
Staff meeting and Oversight meeting
3:00 p.m.     St. Mark's Church, Basking Ridge – Watchung Convocation
                    Clergy Forum
7:00 p.m.     Lay Forum                                        
Thursday, April 5, 2018:
10:00 a.m.  Interims meeting
3:00 p.m.    Holy Trinity Church, Ocean City – Atlantic Convocation
                   Clergy Forum
7:00 p.m.    Lay Forum                                         
Friday, April 6, 2018:                                             
Office appointments
Upcoming Diocesan Events
 ……
 ……
High School Seniors and Undergraduates: Apply for the 

ECW

Student Service Award!
This award is strictly for graduating high school seniors and students currently enrolled in undergraduate studies at a college or university. Students may apply beginning in their senior year and each year that they are enrolled in full-time undergraduate studies. Criteria to be considered in granting awards include: service to the church and service to the community. Please note that this award is open to all genders.
This application and two letters of reference noted below must be postmarked or emailed to the 
ECW
 Student Service Award Chairperson, Mrs. Carol Seale Council, by 
April 15, 2018
. Applicants are responsible for ensuring that letters of recommendation are sent by the deadline.
The Third Sunday in May is Now ECW Sunday!
RESOLUTION 2018-3:
Subject:  The support and acknowledgment of the work of Episcopal Church Women in the Diocese each year with the third Sunday of May being proclaimed "

ECW

 Sunday" throughout the Diocese of New Jersey
Be it resolved, That the 234th Convention of the Diocese of New Jersey support and appreciate the work and ministry of 

ECW

 throughout the Diocese and, in acknowledgement thereof, hereby designates the third Sunday in May to be "

ECW

 Sunday" from this Convention and on into the future, and be it,
Further resolved, That parishes throughout the Diocese of New Jersey demonstrate their support of 

ECW

 with prayer and designated collections to be used by the Diocesan 

ECW

 to further its work of mission and ministry.
The Prayer for the Episcopal Church Women:
Almighty God, we pray that You will bless our work in mission and ministry in the world. Help us to pray fervently, labor diligently and give liberally to make known the power of your love given through your son Jesus. Let us not forget the lessons from the past nor fear the challenges of the future. Anoint us with your grace and shine in our hearts as we reflect your light throughout this world.
Join Trinity Cathedral for its
Annual Cathedral Sunday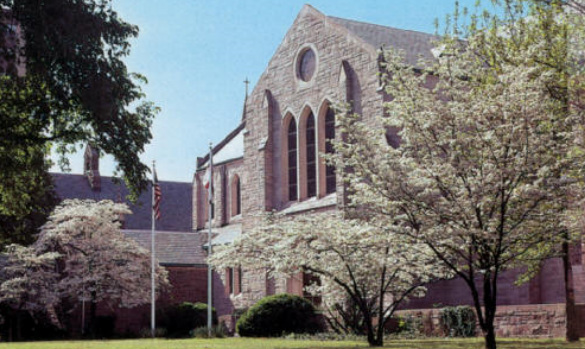 All congregations in the Diocese are invited to participate in the Trinity Cathedral's Cathedral Sunday confirmations on June 3, 2018 at 10:30 am. 
Please send names to Patrice D'Angelo at Trinity Cathedral no later than May 25th.  
*This will be in place of a separate Spring diocesan-wide confirmation service this year. 
 ……
SPRING 2018 BISHOP'S FORUM SCHEDULE
DATE
TIME
CONVOCATION
LOCATION

Wednesday

April 4, 2018

3:00 – 5:00 p.m. –  clergy

7:00 – 9:00 p.m. – lay

Watchung

St. Mark's

Basking Ridge

Thursday

April 5, 2018

3:00 – 5:00 p.m. –  clergy

7:00 – 9:00 p.m. – lay

Atlantic

Holy Trinity

Ocean City

Tuesday

April 10, 2018

3:00 – 5:00 p.m. –  clergy

7:00 – 9:00 p.m. – lay

Trenton

St. Matthew's

Pennington

Tuesday

April 24, 2018

3:00 – 5:00 p.m. –  clergy

7:00 – 9:00 p.m. – lay

Monmouth

Christ Church

Toms River

Thursday

April 26, 2018

3:00 – 5:00 p.m. –  clergy

7:00 – 9:00 p.m. – lay

Northern

Trinity Church

Woodbridge

Tuesday

May 1, 2018

3:00 – 5:00 p.m. –  clergy

7:00 – 9:00 p.m. – lay

Camden

Grace Church

Merchantville

Wednesday

May 2, 2018

3:00 – 5:00 p.m. –  clergy

7:00 – 9:00 p.m. – lay

Woodbury

Christ Church

Woodbury

Wednesday

May 9, 2018

3:00 – 5:00 p.m. –  clergy

7:00 – 9:00 p.m. – lay

Burlington

Trinity Church

Moorestown
……
Save the Date!
NEW JERSEY COUNCIL OF CHURCHES
Opioids: The Next Step
Saturday, April 21, 2018; 8:30 – 2:00
Trinity Cathedral
Keynote Speaker: Daniel B. Hinshaw, M.D.
Emeritus Professor of Surgery
University of Michigan School of Medicine
Workshops will include:
· Funding of Prevention and Treatment
· Legal Issues—Statutory Reform related to Opioid Addiction
· Holistic Approaches to Treatment
· The Spiritual Dimension of Addiction
$15* in advance (payment can be made at the door)
$20* on day of conference
*includes morning coffee/bagels and lunch
Advance payment can be made by check payable to:
NJCC, P.O. Box 10371, Trenton, NJ 08650
……
PART-TIME ADMINISTRATIVE ASSISTANT POSITION
St. Mary's, Burlington part-time, permanent, Administrative Assistant, 15 hours per week position. Working days/hours would be Monday, Tuesday and Thursday from 9 a.m. to 2 p.m. Mastery of word processing, publications and spreadsheets (specifically Microsoft Office programs) as well as familiarity with online forms of communication such as websites and other forms of social media required. Prior church administration experience desirable.

Send a resume to The Rev. J. Connor Haynes by email or mail to 145 West Broad Street, Burlington, NJ 08016.

SEEKING KEYBOARDIST
The faithful people of Saint James' Episcopal Church, Edison, are looking for a keyboardist to join our community and lead our music ministry.  We have a Jupiter-80 available to play – a nearly full-sized keyboard with lots of sound options.  The successful candidate will appreciate the important role music plays in the worship life of a church community.  We are a small but kind group of people who loves to sing!  There is money in the church budget to pay the keyboardist on a pro-rated annual basis.  We hope to have someone in place soon after Easter.  If you are interested, please contact Mother Kristen, Priest-in-Charge, at revkfoley@gmail.com or 732-985-2023. 

SEEKING INFORMATION ABOUT ELECTRONIC GIVING

St. Francis, Dunellen, is exploring setting up an electronic giving system If your congregation is using such a system, please

contact them

with the following: Name and contact info of the service you use, fees/costs involved for parish and/or donor, rough percentage of households that use this option, pros and cons, anything else we should know.

.

SEEKING LEVAS II

Proclaiming Christ in the Garden State
609.394.5281
info@dioceseofnj.org
We are the Episcopal Branch of the Jesus Movement in the Southern 2/3 of New Jersey.
Social Share