CHURCH OF ST. RAPHAEL THE ARCHANGEL 40th ANNIVERSARY
BRICK, NJ

---
FROM THE BISHOP:
Dear People of the Diocese of New Jersey,
In their compelling book, The Last Week:  A Day by Day Account of Jesus's Final Week in Jerusalem[1], renowned biblical scholars Marcus Borg and John Dominic Crossan write of the drama that unfolded on that first Palm Sunday. They describe two processions that enter the city from opposite ends.  The first, from the east, was a peasant procession. The other, from the west, an imperial procession.  Jesus, riding humbly on a donkey, down from the Mount of Olives was cheered by people, mostly peasants, waving palm branches.  Crossan and Borg report that the Roman Governor, Pontius Pilate, was at the head of a column of imperial cavalry and came in from the west. They sum it up, "Jesus's procession proclaimed the kingdom of God; Pilate's proclaimed the power of empire."  Crossan and Borg write, "The two processions embody the central conflict of the week that led to Jesus' crucifixion."[2]
A clash of visions – the kingdom of God versus the power of empire.  As Christians, and as Americans, we live in the tension of that clash every day.  With whose procession and what vision of "kingdom" do we most identify?
Jim Wallis and Sojourners Magazine sponsored a retreat of American Church leaders this past Ash Wednesday.  The group included our Presiding Bishop, Michael Curry.  As Wallis describes it, during this retreat, "We prayed. We experienced a deep sense of lament for the political and moral crisis we are in and for the ways it unfolded. We confessed on behalf of the churches and for our own complicity in the situation in which we now find ourselves. And we strongly sensed the need for repentance, realizing that word means much more than guilt and shame, but a "turning around" and moving in a new direction."[3]
The group also wrote and published a public declaration – Reclaiming Jesus, which they are commending to the churches "for a process of prayer, study, reflection, and action."
I am grateful for this declaration.  As I prepare to leave for Washington, D.C. to join young people from Parkland, Florida and from around the nation to cry out against the senseless violence of our culture and particularly the disease of gun violence, I am profoundly aware of the choice we are being asked to make as Christians.  It is a choice of visions – the vision of Jesus and the kingdom of God built on the values of deep love, or the choice of empire and the kingdom of violence and war.
I pray the people of the diocese will read this declaration, use it for prayer and study this Holy Week and beyond.  Above all, I pray we will all use it for prayer, repentance and to help us to clarify the procession we feel called to join.
May God bless you in this Holy Week.
Yours in Christ,


The Right Reverend William H. (Chip) Stokes, D.D.
Bishop of New Jersey
[1] Borg, Marcus and Crossan, John Dominic The Last Week:  A Day by Day Account of Jesus's Final Week in Jerusalem – New York: HarperCollins e-Books, 2006,
[2] Borg and Crossan, see p. 1 ff.
[3] Wallis, Jim "Commentary – Reclaiming Jesus:  ow Confessing Faith  Can respond to a Moral and Constitutional Crisis – on the Sojo Website found at Reclaiming Jesus: How Confessing Faith Can Respond to a Moral and Constitutional Crisis | Sojourners
Bishop's Schedule Highlights
March 23, 2018:
7:00 p.m.    Washington National Cathedral Vigil
Saturday, March 24, 2018:
March For Our Lives – Washington DC
Sunday, March 25, 2018:
10:00 a.m.   Visitation:  Grace Church, Merchantville
Monday, March 26, 2018:
Bishop's Sabbath
Tuesday, March 27, 2018:
9:30 a.m.     Chrism Mass – Trinity Cathedral
Office appointments
Wednesday, March 28, 2018:
Bishop's Study Day
Thursday, March 29, 2018:
7:30 p.m.    Trinity Cathedral – Celebrant at Maundy Thursday service
Upcoming Diocesan Events
Use the hashtag #MarchwithLEAMNJ to share your stories! Make sure posts you wish to share are public.
Stories will be streamed together at DioceseofNJ.org/MarchwithLEAMNJ.
The buses will leave at 6am on 24th and the locations are:
NEWARK: Episcopal House, 31 Mulberry Street, Newark, NJ
HAMILTON SQUARE: NJ Synod Office, 1930 State Highway 33, Hamilton Square, NJ 08690
MARLTON: Prince of Peace Lutheran Church, 61 Route 70 East, Marlton, NJ 08053
MONTCLAIR: St. Luke's Episcopal Church, 73 S. Fullerton Ave, Montclair, NJ 07042 
For more information, please visit the LEAMNJ website here: https://www.leamnj.org/march-for-our-lives-2018
……
 ……
Join Trinity Cathedral for its
Annual Cathedral Sunday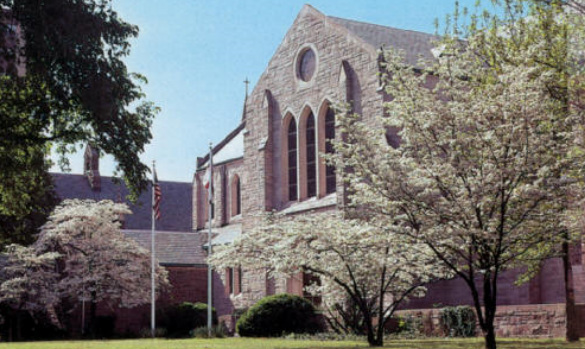 All congregations in the Diocese are invited to participate in the Trinity Cathedral's Cathedral Sunday confirmations on June 3, 2018 at 10:30 am. 
Please send names to Patrice D'Angelo at Trinity Cathedral no later than May 25th.  
*This will be in place of a separate Spring diocesan-wide confirmation service this year. 
 ……
SPRING 2018 BISHOP'S FORUM SCHEDULE
DATE
TIME
CONVOCATION
LOCATION

Wednesday

April 4, 2018

3:00 – 5:00 p.m. –  clergy

7:00 – 9:00 p.m. – lay

Watchung

St. Mark's

Basking Ridge

Thursday

April 5, 2018

3:00 – 5:00 p.m. –  clergy

7:00 – 9:00 p.m. – lay

Atlantic

Holy Trinity

Ocean City

Tuesday

April 10, 2018

3:00 – 5:00 p.m. –  clergy

7:00 – 9:00 p.m. – lay

Trenton

St. Matthew's

Pennington

Tuesday

April 24, 2018

3:00 – 5:00 p.m. –  clergy

7:00 – 9:00 p.m. – lay

Monmouth

Christ Church

Toms River

Thursday

April 26, 2018

3:00 – 5:00 p.m. –  clergy

7:00 – 9:00 p.m. – lay

Northern

Trinity Church

Woodbridge

Tuesday

May 1, 2018

3:00 – 5:00 p.m. –  clergy

7:00 – 9:00 p.m. – lay

Camden

Grace Church

Merchantville

Wednesday

May 2, 2018

3:00 – 5:00 p.m. –  clergy

7:00 – 9:00 p.m. – lay

Woodbury

Christ Church

Woodbury

Wednesday

May 9, 2018

3:00 – 5:00 p.m. –  clergy

7:00 – 9:00 p.m. – lay

Burlington

Trinity Church

Moorestown
……
Save the Date!
NEW JERSEY COUNCIL OF CHURCHES
Opioids: The Next Step
Saturday, April 21, 2018; 8:30 – 2:00
Trinity Cathedral
Keynote Speaker: Daniel B. Hinshaw, M.D.
Emeritus Professor of Surgery
University of Michigan School of Medicine
Workshops will include:
· Funding of Prevention and Treatment
· Legal Issues—Statutory Reform related to Opioid Addiction
· Holistic Approaches to Treatment
· The Spiritual Dimension of Addiction
$15* in advance (payment can be made at the door)
$20* on day of conference
*includes morning coffee/bagels and lunch
Advance payment can be made by check payable to:
NJCC, P.O. Box 10371, Trenton, NJ 08650
……
PART-TIME ADMINISTRATIVE ASSISTANT POSITION
St. Mary's, Burlington part-time, permanent, Administrative Assistant, 15 hours per week position. Working days/hours would be Monday, Tuesday and Thursday from 9 a.m. to 2 p.m. Mastery of word processing, publications and spreadsheets (specifically Microsoft Office programs) as well as familiarity with online forms of communication such as websites and other forms of social media required. Prior church administration experience desirable.

Send a resume to The Rev. J. Connor Haynes by email or mail to 145 West Broad Street, Burlington, NJ 08016.

SEEKING KEYBOARDIST
The faithful people of Saint James' Episcopal Church, Edison, are looking for a keyboardist to join our community and lead our music ministry.  We have a Jupiter-80 available to play – a nearly full-sized keyboard with lots of sound options.  The successful candidate will appreciate the important role music plays in the worship life of a church community.  We are a small but kind group of people who loves to sing!  There is money in the church budget to pay the keyboardist on a pro-rated annual basis.  We hope to have someone in place soon after Easter.  If you are interested, please contact Mother Kristen, Priest-in-Charge, at revkfoley@gmail.com or 732-985-2023. 

SEEKING INFORMATION ABOUT ELECTRONIC GIVING

St. Francis, Dunellen, is exploring setting up an electronic giving system If your congregation is using such a system, please

contact them

with the following: Name and contact info of the service you use, fees/costs involved for parish and/or donor, rough percentage of households that use this option, pros and cons, anything else we should know.

.

SEEKING LEVAS II

Proclaiming Christ in the Garden State
609.394.5281
info@dioceseofnj.org
We are the Episcopal Branch of the Jesus Movement in the Southern 2/3 of New Jersey.
Social Share