THE ALTAR AT ST. DAVID'S CHURCH
CRANBURY, NJ

---
FROM THE BISHOP:
Dear People of the Diocese of New Jersey,
Sanctify a fast,
   call a solemn assembly.
Gather the elders
   and all the inhabitants of the land
to the house of the Lord your God,
   and cry out to the Lord….Joel 1:14
From March 5 – March 10, I was in Texas for the Spring Meeting of the House of Bishops.  It was an intense week with a jam-packed schedule that included some insightful and practical teachings on evangelism. We also had sessions to discuss the upcoming General Convention. Without question, however, the central "God-moment" of the House of Bishops Meeting occurred early on, when Bishop Peter Eaton of Southeast Florida read a letter addressed to the House of Bishops from Philip and April Schentrup, parents of Carmen, age 16, who was among those massacred at the Marjory Stoneman Douglas High School shooting in Parkland, Florida on Ash Wednesday.  Here is a transcript of their letter to the House of Bishops:
Dear Brothers and Sisters in Christ, 
As you may know, our daughter Carmen was murdered in the tragic massacre at Marjory  Stoneman Douglas High School on Ash Wednesday.
My wife, April, and I would like to thank all of you who have kept us and our children in your prayers. Prayers and love are helping our family through this incredibly tough time, please keep them coming; for us, and for all the victims of this senseless massacre.
Our hearts are saddened for the loss of our beautiful little girl and the absence of her amazing presence, but we cannot be sad for Carmen. We believe that Carmen's murder was not part of God's plan and that God is saddened by the violence in this world more than we can know. We know that God's promise is for us to be with him in heaven, and in faith, we believe that Carmen is in heaven, in the loving embrace of God. She awaits us, loved and cared for.
As our family struggles to pick up the pieces of our shattered lives, we ask the Good Lord daily for the strength to fight the good fight, to finish the race. In our attempt to heal from despair and grief, we are compelled to try and make the world a better place for our two remaining children and for all children. To that end, we implore you, as leaders of Christ's church, to address the issue of gun violence head-on. We ask that you make this a priority for the Church and to leave little ambiguity as to "what would Jesus do." The scourge of gun violence on this nation, especially with military assault rifles, is a problem of our own creation and counter to God's desire for peace and love. As a nation we can solve this problem, and as leaders of the Church in our country, we ask that you help lead the way. In Christ's name, we beg you to take action. 
We would also like to extend an invitation to all bishops to rally with our church, St. Mary Magdalene, and our diocese this March in Washington DC. We, along with our church family, will participate in the March for Our Lives this coming March 24th and would very much urge all bishops to come with us to stand up for the lives of children and for the ministry of Christ's church. One can only imagine the example of leadership and solidarity that such a showing could make on our fractured and divided country.
Thank you for your time. Thank you for your stewardship of our flock. Thank you for your prayers, and we look forward to walking hand-in-hand with you later this month.
Sincerely,
Philip and April Schentrup
As you might imagine, this letter silenced the room.
I agree with the Schentrups that "The scourge of gun violence on this nation, especially with military assault rifles, is a problem of our own creation and counter to God's desire for peace and love."  I would go further and state that the problem of gun violence in this country is demonic.  In its insistence on opposing virtually all legislation aimed at reigning in the epidemic of gun violence, the current leadership of the National Rifle Association fuels the demonic spirit of this issue. This is also true of its upholding the so-called Dickey Amendment and its unrelenting efforts to prevent the Center for Disease Control to engage in studying the gun-violence epidemic objectively and without political interference. The NRA has dissuaded Congress from appropriating the funds necessary to engage in this research.  This is evil.
I am aware that there are many faithful Episcopalians who are members of the NRA.  Polling indicates clearly that the majority do not uphold the extremist views of the current NRA leadership.  The vast majority of Americans, including the vast majority of gun-owners, want to see tighter background checks with loopholes closed.  Many support an Assault weapons and high-capacity magazine ban.  They also support unfettered research into the disease of gun violence. These are things that most of us agree on and can work toward.
I will be joining the Schentrups and others of the Parkland community on March 24 in Washington, D.C..  Moreover, I am committed to making the reduction of gun-violence through the enacting of common-sense gun laws a priority for the church and the nation without any ambiguity. Click here to register for one of the buses to the March for Our Lives.
I pray you will join me.  It is, I feel sure, what Jesus would do.
Blessings and peace in Christ,



The Right Reverend William H. (Chip) Stokes, D.D.
Bishop of New Jersey
Bishop's Schedule Highlights
Monday, March 19, 2018:
Bishop's Sabbath
Tuesday, March 20, 2018:
11:00 a.m.     Deans meeting
12:00 noon  Lunch with the Deans
  1:00 p.m.   Diocesan Council meeting
                    Office appointments
  7:00 p.m.   Christ Church, Palmyra vestry meeting 
Wednesday, March 21, 2018:
Staff meeting and Oversight meeting
                    Office appointments
  7:00 p.m.   Grace Church, Merchantville vestry meeting  
Thursday, March 22, 2018:
12:30 p.m.   Constable Grant Task Force meeting
                    Office meetings
  5:00 p.m.  Holy Spirit Church, Tuckerton town hall meeting
Upcoming Diocesan Events
REGISTER BY MARCH 20!
There are buses leaving from 4 different locations around the State: Newark, Hamilton Square, Montclair, and Marlton. 
The cost is $25 for anyone over the age of 18 and $15 for youth age 13 – 17. 
The buses will leave at 6am on 24th and the locations are: 
NEWARK: Episcopal House, 31 Mulberry Street, Newark, NJ
HAMILTON SQUARE: NJ Synod Office, 1930 State Highway 33, Hamilton Square, NJ 08690
MARLTON: Prince of Peace Lutheran Church, 61 Route 70 East, Marlton, NJ 08053
MONTCLAIR: St. Luke's Episcopal Church, 73 S. Fullerton Ave, Montclair, NJ 07042 
For registration and more information, please visit the LEAMNJ website here: https://www.leamnj.org/march-for-our-lives-2018
……
 ……
Join Trinity Cathedral for its
Annual Cathedral Sunday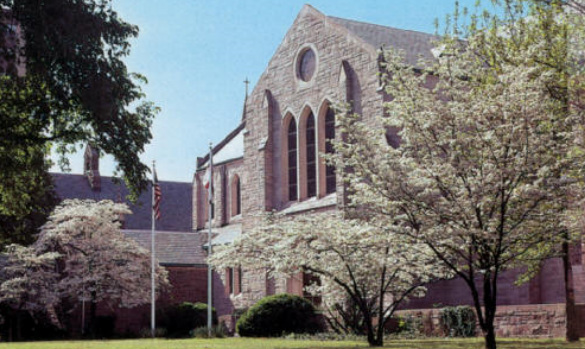 All congregations in the Diocese are invited to participate in the Trinity Cathedral's Cathedral Sunday confirmations on June 3, 2018 at 10:30 am. 
Please send names to Patrice D'Angelo at Trinity Cathedral no later than May 25th.  
*This will be in place of a separate Spring diocesan-wide confirmation service this year. 
 ……
SPRING 2018 BISHOP'S FORUM SCHEDULE
DATE
TIME
CONVOCATION
LOCATION

Wednesday

April 4, 2018

3:00 – 5:00 p.m. –  clergy

7:00 – 9:00 p.m. – lay

Watchung

St. Mark's

Basking Ridge

Thursday

April 5, 2018

3:00 – 5:00 p.m. –  clergy

7:00 – 9:00 p.m. – lay

Atlantic

Holy Trinity

Ocean City

Tuesday

April 10, 2018

3:00 – 5:00 p.m. –  clergy

7:00 – 9:00 p.m. – lay

Trenton

St. Matthew's

Pennington

Tuesday

April 24, 2018

3:00 – 5:00 p.m. –  clergy

7:00 – 9:00 p.m. – lay

Monmouth

Christ Church

Toms River

Thursday

April 26, 2018

3:00 – 5:00 p.m. –  clergy

7:00 – 9:00 p.m. – lay

Northern

Trinity Church

Woodbridge

Tuesday

May 1, 2018

3:00 – 5:00 p.m. –  clergy

7:00 – 9:00 p.m. – lay

Camden

Grace Church

Merchantville

Wednesday

May 2, 2018

3:00 – 5:00 p.m. –  clergy

7:00 – 9:00 p.m. – lay

Woodbury

Christ Church

Woodbury

Wednesday

May 9, 2018

3:00 – 5:00 p.m. –  clergy

7:00 – 9:00 p.m. – lay

Burlington

Trinity Church

Moorestown
……
Save the Date!
NEW JERSEY COUNCIL OF CHURCHES
Opioids: The Next Step
Saturday, April 21, 2018; 8:30 – 2:00
Trinity Cathedral
Keynote Speaker: Daniel B. Hinshaw, M.D.
Emeritus Professor of Surgery
University of Michigan School of Medicine
Workshops will include:
· Funding of Prevention and Treatment
· Legal Issues—Statutory Reform related to Opioid Addiction
· Holistic Approaches to Treatment
· The Spiritual Dimension of Addiction
$15* in advance (payment can be made at the door)
$20* on day of conference
*includes morning coffee/bagels and lunch
Advance payment can be made by check payable to:
NJCC, P.O. Box 10371, Trenton, NJ 08650
……
  ……….
PART-TIME ADMINISTRATIVE ASSISTANT POSITION
St. Mary's, Burlington part-time, permanent, Administrative Assistant, 15 hours per week position. Working days/hours would be Monday, Tuesday and Thursday from 9 a.m. to 2 p.m. Mastery of word processing, publications and spreadsheets (specifically Microsoft Office programs) as well as familiarity with online forms of communication such as websites and other forms of social media required. Prior church administration experience desirable.

Send a resume to The Rev. J. Connor Haynes by email or mail to 145 West Broad Street, Burlington, NJ 08016.

SEEKING INFORMATION ABOUT ELECTRONIC GIVING

St. Francis, Dunellen, is exploring setting up an electronic giving system If your congregation is using such a system, please

contact them

with the following: Name and contact info of the service you use, fees/costs involved for parish and/or donor, rough percentage of households that use this option, pros and cons, anything else we should know.

.

SEEKING LEVAS II

Proclaiming Christ in the Garden State
609.394.5281
info@dioceseofnj.org
We are the Episcopal Branch of the Jesus Movement in the Southern 2/3 of New Jersey.
Social Share