---
FROM THE COMMUNICATIONS DIRECTOR:
Friends throughout the Diocese,
I'm thrilled to be back at work with you once again, proclaiming the Good News of Jesus Christ in the Garden State.  I'm humbled by the outpouring of support from all of you; your prayers, well wishes, and love made my healing and return possible, and I'm so grateful for the fantastic communications work I witnessed from so many of you throughout the diocese while I was out. Allie Graham and Theresa Dunn did amazing work in carrying out diocesan communications, and their creativity and innovation will be permanent parts of this department going forward. Since I came back in August, the three of us have been collaborating and sharing our passions, and I can't wait for you to see the fruits of these efforts. Our new newsletter launched last week, and we've begun work in earnest on the new diocesan website coming this spring. There's a great deal more in store, and I'm so looking forward to sharing in the excitement with you.
I want to take a moment to remind you to continue to share your congregational events with us; we will continue to include them in the newsletter, and the next version of the website will have new and bolder ways of showcasing events throughout the diocese.
Most importantly, I urge you to share your stories of ministry with us. In the last several weeks, I've heard powerful and moving stories of churches in transformation, of young children persuading their adult neighbors to accompany them to worship, of congregations providing healing to communities rent asunder by violence, of people coming together as the hands and feet of Jesus Christ to make a marked difference in the lives of those in New Jersey. We want to tell those stories, and to help those stories reach far and wide. I invite you to continue to share Good News stories in your communities and lives with us; beginning next newsletter, we'll be showcasing them in a featured format every week. Please keep the communications department informed of the incredible ministries at your congregation, and we'll do our very best to aid in telling these stories.
In the coming weeks, we'll be sharing more communications news with you, including upcoming workshops and the first New Jersey CommFest on January 12 and 13, 2018. The communications department looks forward to learning, growing, and worshiping with you in the months and years to come.
Faithfully,
Canon Jonathan Elliott
Director of Communications
Episcopal Diocese of New Jersey
Bishop's Schedule Highlights
Friday-Sunday, November 3-12, 2017
Family vacation
Monday-Wednesday, November 13-15
Clergy Conference, Stockton Seaview Hotel & Golf Club, Galloway
Thursday, November 16
11:00 a.m.               Paddock Lectures 2017: The Rev. Dr. Dwight Zscheile
.   
                             General Theological Seminary, NYC
5:00 p.m.               Standing Committee
Friday, November 17, 2017 
 1:00 p.m.               St. Mary's Church, Keyport – Hispanic Coalition Meeting
 Saturday, November 18, 2017
10:00 a.m.               Trinity Cathedral – Diocesan-wide Confirmation Service
 6:00 p.m.               Trinity Church, South River – Anniversary celebration
Soles for the Harvest
Nearly 130 runners and walkers of all ages from across the diocese raised over money for Jubilee Ministries and much more for the work of the Jubilee Centers in the diocese. Money is still being collected. Read more about this event here. and See photos!
Cathedral Golf Outing Pictures
Meet the new Diocesan Benefits Coordinator
We are excited to welcome Pat Hawkins, chair of our Diocesan Benefits Committee, to our Diocesan staff!  Her availability makes it possible for us to bring the administration of our health, dental and life benefits in-house, replacing the contract arrangement we have had with DFS&A up until now. She will be be the point of contact for Medical, Dental, and Life insurance effective immediately, even as we transition with DFS&A through the end of the year.
Pat will also assist Canon Phyllis Jones with Church Pension Group liaison responsibilities and will be primary point of contact for questions about pension benefits and coverage.
She can be reached at
benefits@dioceseofnj.org or
609-394-5281 ext 22
In addition to her considerable expertise, Pat has a heart for service and a wonderfully clear way of answering questions and educating about our benefits programs. We are thrilled to have this opportunity to better utilize funding previously applied towards the DFS&A contract to enhance our service to our congregations in this critical area.  Please join us in welcoming her to her expanded role on our Diocesan team!
.
.
Lay Empowerment Day
: The Heart of Leadership
Trinity Cathedral (Synod Hall), Saturday, November 11
December 5, Trinity Cathedral
Diocesan Convention – Save the Date!
The 234th Convention of the Diocese of New Jersey will take place on March 2-3, 2018 at the Crowne Plaza in Cherry Hill.
Registration information will be available in the coming weeks.
……….
There will be a Diocesan-wide
Confirmation service at
Trinity Cathedral
Saturday, November 18, 2017 at 10:00 a.m.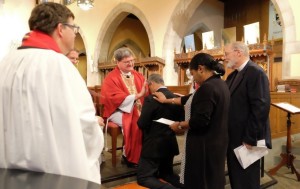 If you are participating in this service, please contact The Rev. Valerie Balling by Friday November 10th with the names of those you will be presenting for
Confirmation, Reception or Reaffirmation of Faith.
All candidates and sponsors need to be in Synod Hall at the Cathedral by 9:15 a.m.
If you need Confirmation, Reception, or Reaffirmation Certificates, please contact Mary Anne Clisham (or call: 609-394-5281).
……….
Attending Clergy Conference?
Here are Recommended Readings!
Cally Parkinson
David Gortner
……….
Global Goals
Matching Grants
As you think about your fall programming, remember that a Diocesan Matching Grant can double the amount you fund raise for international projects (up to $750)! Applications are reviewed as they are received; the final deadline for this cycle is TODAY
November 10, 2017.
For more information and an application, please click
here
.
……….
The Only Episcopal Pre-K-12 School in the Diocese of New Jersey
350 Riverbank, Burlington, NJ
……….
HIRING A DAY SCHOOL DIRECTOR
St Paul's, Westfield is seeking a directory for a preschool school with students aged 2 through kindergarten with a current student roll of 235.

SEEKING LEVAS II


St. Thomas', Glassboro is looking to buy used copies of LEVAS II.

HYMNALS ON OFFER


St. Raphael's, Brick has 30 hymnals on offer.

Contact them

if interested

Large Holy Bible Available


A Holy Bible (15″x10.5″x3″) with illustrations from the Vatican Library" free to another church contact

Christ Church, Toms River

if interested.
Proclaiming Christ in the Garden State
609.394.5281
info@dioceseofnj.org
We are the Episcopal Branch of the Jesus Movement in the Southern 2/3 of New Jersey.
Social Share