---
FROM THE BISHOP:
Dear People of the Diocese of New Jersey, 
The wind blows where it chooses, and you hear the sound of it, but you do not know where it comes from or where it goes. So it is with everyone who is born of the Spirit…John 3:8
The Spirit is blowing in all kinds of directions in the Diocese of New Jersey. Our annual Clergy Conference took place this past week at Stockton Seaview Hotel and Resort in Galloway. About 115 priests and deacons of the diocese engaged in prayer, "dwelling in the Word," lectures and conversation focusing on the theme The Leader's Heart: Growing as a Disciple by Making Disciples. We were led by The Rev. Jay Sidebotham of RenewalWorks (Jay also led the Lay Empowerment Day the Saturday before); The Rev. Dr. David T. Gortner, Associate Dean of Church and Community Engagement and Director of the Doctor of Ministry Program, and Professor of Evangelism and Congregational Leadership at Virginia Theological Seminary and Cally Parkinson: Author of Rise: Bold Strategies to Transform Your Church.
Throughout Clergy Conference we were challenged with sober truth telling about the spiritual state of our church, but also provided with practical tools for effective evangelism and spiritual growth. There was a phenomenal panel presentation by members of our own Hispanic Ministry Coalition who provided a picture of the rewards and challenges of initiating this kind of ministry – an area of already realized growth and vitality in our diocese.
I am grateful to Canon Rob Droste and Terry Ann Schwarz for their tremendous work in organizing the conference. I am also grateful to The Rev. Valerie Balling, The Rev. Kent Walley and The Rev. Phil Carr-Jones as well as the Commission on Liturgy and the newly formed Clergy Continuing Education Committee for all they did to make our time together rich and meaningful.
Diocesan Confirmation will take place at Trinity Cathedral this Saturday at 10:00 AM. I am scheduled to Confirm 45 people, Receive 2 persons and hear the Reaffirmations of 5. 12 Congregations will be represented. This is very exciting and evidence of the Spirit's movement in our diocese.
On Saturday evening, I will be attending a gala to celebrate the 50th Anniversary of Holy Trinity Church in South River. I look forward to being with Fr. Greg Bezilla and the people of Holy Trinity who have been active participants in The Way of St. Paul and who are doing exciting things, working earnestly to join in God's work in South River and beyond.
On Sunday, I will be at St. James, Bradley Beach to celebrate and Confirm. St. James and St. Michael the Archangel, Wall have begun of a process of discerning how they might work in closer collaboration. There is great potential in this conversation. It's another sign of the Spirit at work.
On Sunday afternoon, I'll be at St. Mary's, Point Pleasant Beach to celebrate their New Ministry with Mother Victoria Pretti and also to confirm members in that Church.
It's all good. It's all the work of the Spirit. Thanks be to God. I hope you have a good weekend. I know mine will be.
Blessings and peace,

The Rt. Rev. William H. Stokes, D.D.
XII Bishop of New Jersey
Bishop's Schedule Highlights
Saturday, November 18         
10:00 a.m.               Trinity Cathedral – Diocesan-wide Confirmation Service
6:00 p.m.                Holy Trinity Church, South River – Anniversary celebration
Sunday, November 19
10:00 a.m.               Visitation: St. James' Church, Bradley Beach
3:00 p.m.                St Mary's-by-the-Sea, Point Pleasant Beach
                                Celebration of New Ministry: The Rev. Victoria Pretti
w/Confirmations
Tuesday, November 21
11:00 a.m.               Deans meeting
  1:00 p.m.               Diocesan Council meeting
  6:00 p.m.               Cathedral Chapter dinner/meeting
Wednesday-Friday, November 22-24    
Office closed for Thanksgiving
Checking in With Scott Russell – Rutgers Chaplain
"God Is Doing a New Thing."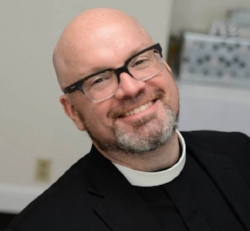 The Episcopal Church at Rutgers' website, RUEpiscopal.org, leads with the above phrase, in bold type against a backdrop of colorful brushstrokes. And it's a deep truth of the Episcopal Chaplaincy there, which is in the midst of a rebirth after over 70 years of serving the Rutgers community. The Reverend Scott Russell is the new Episcopal Chaplain on campus, having come to New Brunswick following a decade of chaplaincy at Virginia Tech. His ministry began in Spring 2016, and has seen rapid growth amidst ambitious ideas; his strong personality and ideals, colorful collection of new ideas and firm theology, and ample sense of humor shine through.
Diocesan Christmas Card Contest
As has become our tradition, we would love to showcase one of our congregations on this year's Diocesan 
Christmas 
Card
. This year, we're looking for your church's
Christmas

 Eve service pictures from recent years– 
a please send us a beautiful, elegant, and moving imag
e featuring people of your church
.
by 5 PM on Wednesday, November 22.
Bishop Stokes and Diocesan Staff will select an image for the card, to be sent out the first week of December!
Tuesday, December 5, 
Trinity Cathedral
December 15-16, Trinity Cathedral
Thursday, December 21, Bishop Stokes' Home, Trenton
Diocesan Convention – Save the Date!
The 234th Convention of the Diocese of New Jersey will take place on March 2-3, 2018 at the Crowne Plaza in Cherry Hill.
Registration information will be available in the coming weeks.
……….
The Only Episcopal Pre-K-12 School in the Diocese of New Jersey
350 Riverbank, Burlington, NJ
……….
HIRING A DAY SCHOOL DIRECTOR
St Paul's, Westfield is seeking a directory for a preschool school with students aged 2 through kindergarten with a current student roll of 235.

SEEKING LEVAS II


St. Thomas', Glassboro is looking to buy used copies of LEVAS II.

HYMNALS ON OFFER


St. Raphael's, Brick has 30 hymnals on offer.

Contact them

if interested

Large Holy Bible Available


A Holy Bible (15″x10.5″x3″) with illustrations from the Vatican Library" free to another church contact

Christ Church, Toms River

if interested.
Proclaiming Christ in the Garden State
609.394.5281
info@dioceseofnj.org
We are the Episcopal Branch of the Jesus Movement in the Southern 2/3 of New Jersey.
Social Share