---
FROM THE BISHOP:
Dear People of the Diocese of New Jersey,
As for me, I am poor and needy,
 but the Lord takes thought for me.….Psalm 40:17 (NRSV)
This past summer, I read the book Evicted: Poverty and Profit in the American City. It is a raw, brutal examination of systemic poverty through the lens of persons who experience eviction. Sociologist and "Ethnographer" Matthew Desmond embedded himself in inner-city Milwaukee for several years to study and document the stories of persons who experienced evictions, a common phenomenon in our culture, especially within our inner-cities, in which the poor often spend fifty percent or more of their income on housing.
Desmond's book has a particular resonance with me. I've experienced being evicted.
When I was an eighteen year-old freshman in college, living at home in New York City with my mother and my 9 year-old half-brother Teddy, we were evicted. My mother ran a day-care center in our home. She was never good with business or with money and got months behind in the rent.
I was in an English class at Manhattan College in early fall when the secretary of the Dean of Arts and Sciences came to the classroom door, interrupted the class and called my name. She handed me a note that said, "Your mother called. The Sherriff is at your home. You are being evicted. Come home immediately." Needless to say, heart-racing, I gathered up my books, and went home. I called my girlfriend, Susan Martin (now Susan Stokes), who got her father's car. When I arrived at what had been our home, on New York's Upper East Side, there was a moving truck outside. Three men were loading our furniture out of the home while a man with a badge and gun supervised. My mother sat on a chair watching, numb.
I was told I could take what I wanted, but everything had to go. Susan helped me get essential clothes and things my mother and brother needed. We loaded them in the car and brought them to a friend of my mother who was willing to take my mother and brother in for a while. I threw what clothes I could in some boxes, took a bunch of books, some other personal items and loaded them into Susan's father's car. Everything else was loaded onto the moving truck and went to storage. We never saw these things again.
I had phoned my father. He didn't have room for me in his home, but arranged for me to move in with an aunt in Forest Hills. I was grateful I had someone to take me in and somewhere nice to go.
Susan and I married eight months after my mother, my brother and I were evicted from our apartment. Susan was 17 and I was 19. Erin, our first daughter was born soon after that. A year after our eviction, I pulled my mother and brother out of a roach and rodent infested welfare hotel on New York's Upper West Side. They moved into our one bedroom $150.00 a month apartment in the Bronx. I was tending bar at night and going to school during the day. I was earning about $250.00 a week. There were times when I had to decide between buying food, paying the rent or the electric bill. A couple of times our power was shut off and I had to ask for help from my father or Susan's father.
Matthew Desmond's book Evicted: Poverty and Profit in the American City churned up painful memories for me. Blessed, lucky, privileged, by the grace of God, with hard work on my part and with strong family support, I was able to find my way out of challenging circumstances. Others are not as fortunate. Many, especially people of color, are confronted by systemic racism which creates barriers almost impossible to overcome. Evicted: Poverty and Profit in the American City tells some of their stories. Although set in Milwaukee, the accounts in Evicted might just as easily have occurred in Trenton, Plainfield, Camden, Elizabeth or any one of New Jersey's inner cities.
In my travels, I often hear people say ignorant things about the poor. Frequently, such people have little understanding of what poverty is truly like or of how systemic structures in our society perpetuate oppression. Matthew Desmond's book Evicted: Poverty and Profit in the American City is a powerful book that invites readers to discover and better understand the machinations of the societal systems that feed poverty and perpetuate oppression.
Advent is approaching and with it our celebration of the birth of our Savior who was born in a stable. The false gospel of consumerist materialism, the hallmark of the so-called "Christmas shopping season," works to seduce us. It strikes me that Matthew Desmond's book Evicted has important things to say to us in the midst of all of this.
With this in mind, I am inviting the people of the Diocese of New Jersey to read together Matthew Desmond's book Evicted: Poverty and Profit in the American City from Thanksgiving through Advent. I encourage churches to engage in small group discussions and forums using the study guide provided by the publisher; to share in meaningful conversations about the many issues the book addresses, especially the issues of systemic racism and poverty which go hand in hand and impact us all.
It is my hope and prayer that you will accept this invitation. Perhaps this might be a means by which we join God in taking thought for the poor.
Blessings and peace,


Bishop's Schedule
Bishop Stokes is away on family vacation. Please contact Mary Ann Roads, The Bishop's Executive Assistant for scheduling needs. Or Canon Phyllis Jones, Chief Operating Officer or The Rev. Dr. Brian Jemmott, Canon to the Ordinary for immediate needs.

Bishop's Cup: Congratulations to St. Martin's, Bridgewater
Congratulations to St. Martin's, Bridgewater, first-time winners of the 2017 Bishop's Cup at the Cathedral Day Golf Outing on October 30th. Special thanks to all of the players and sponsors, and committee organizers of this fun annual event to benefit our own Trinity Cathedral!
Notices and Classifieds
There will be a Diocesan-wide
Confirmation service at
Trinity Cathedral
Saturday, November 18, 2017 at 10:00 a.m.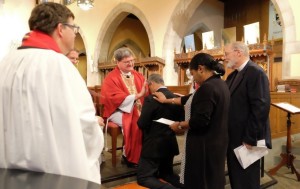 If you are participating in this service, please contact The Rev. Valerie Balling by Friday November 10th with the names of those you will be presenting for
Confirmation, Reception or Reaffirmation of Faith.
All candidates and sponsors need to be in Synod Hall at the Cathedral by 9:15 a.m.
If you need Confirmation, Reception, or Reaffirmation Certificates, please contact Mary Anne Clisham (or call: 609-394-5281).
……….
Attending Clergy Conference?
Here are Recommended Readings!
Cally Parkinson
David Gortner
……….
Global Goals
Matching Grants
As you think about  your fall programming, remember that a Diocesan Matching Grant can double the amount you fund raise for international projects (up to $750)!  Applications are reviewed as they are received; the final deadline for this cycle is
November 10, 2017.
  For more information and an application, please click 
here
.
……….
November 11, 2017
Lay Empowerment Day
This event is intentionally scheduled to provide the laity with the information and materials that will be presented to all clergy at the
Annual Clergy Conference (November 13-15)
featuring The Rev. Jay Sidebotham, Episcopal priest, cartoonist, and Director of RenewalWorks
 What does it mean to be a spiritual leader in the community?
How are Vestries and other groups spiritual communities?
How can we build a culture of discipleship in the Diocese of New Jersey?
Saturday, November 11, 2017
9:00 am – 3:00 pm
Trinity Cathedral, Trenton
There is NO CHARGE to attend but registration is REQUIRED.
Box lunches are available for pre-purchase during the on line registration process
……….
The Only Episcopal Pre-K-12 School in the Diocese of New Jersey
 350 Riverbank, Burlington, NJ
HIRING A DAY SCHOOL DIRECTOR
St Paul's, Westfield is seeking a directory for a preschool school with students aged 2 through kindergarten with a current student roll of 235.

SEEKING LEVAS II


St. Thomas', Glassboro is looking to buy used copies of LEVAS II.

HYMNALS ON OFFER


St. Raphael's, Brick has 30 hymnals on offer. 

Contact them

 if interested

Large Holy Bible Available


A Holy Bible (15″x10.5″x3″) with illustrations from the Vatican Library" free to another church contact

Christ Church, Toms River

if interested.
Proclaiming Christ in the Garden State
609.394.5281
info@dioceseofnj.org
We are the Episcopal Branch of the Jesus Movement in the Southern 2/3 of New Jersey.
Social Share