The Animal Welfare Ministry team embraces our responsibility as stewards of God's creation, and recognizes that a spiritual disconnection with God's creatures has led to the unnecessary abuse and exploitation of animals for commercial gain, sport, and scientific discovery.
Our four-fold mission is to be the voice of the Episcopal Church in the Diocese of New Jersey against systemic practices of animal cruelty, degradation, and commercial exploitation, to provide the diocese with an education and awareness program for animal welfare concerns, to foster the celebration of our fellow creatures as a gift from God, and to provide pastoral counseling resources for the loss of a companion animal.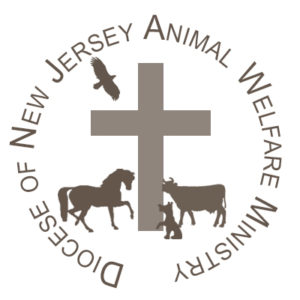 Our many team members are spread throughout the diocese. Since our formation in April 2016 we have created a one-hour Education and Awareness program designed for parish forums, developed new liturgical resources, and selected various campaign topics for our advocacy work.  We have been a presence at Diocesan Convention and conducted a full-day diocesan-wide forum at Trinity Cathedral. Future plans include, pastoral counseling training for the loss of a companion animal, and creating a virtual space for dialogue on animal welfare issues, while extending our ministry beyond the traditional church setting.
This website is intended as a resource for individuals and parishes who wish to become more involved in animal welfare ministry.   Search, and you will find
We are founded on General Convention Resolutions of 2003, 2009 and 2012 that call the Episcopal Church to
recognize that the responsible care of animals falls within the stewardship of God's creation
advocate for the ethical care and treatment of animals, and against husbandry methods that cause suffering, such as the conditions found in factory farms and puppy mills
advocate for animal protection legislation and enforcement
provide educational resources at the diocesan and parish levels about decisions that affect the lives and health of endangered species, farm food animals, and domestic animals
provide pastoral care for people who grieve the loss of a companion animal
For more information please contact Deacon Christopher Cox.

News From Around the Diocese
Rutgers Day.  April 28, 2018
The Animal Welfare Ministry presence at Rutgers Day on April 28th was an outstanding success!  We were blessed to be in conversation with close to 100 people during the course of the day, and we handed out a lot of literature.  It was a truly joyful and Spirit-filled day!  Participants from the Animal Welfare team were Karla Droste, Lynn Pilanen, and Chris and Hilary Cox.
Blessings of the Animals around the Diocese
St. George's by the River, Rumson
The Rev. Ophelia Laughlin and members, both human and furry of  St. George's-By-the-River, Rumson, come together for Pet Friendly worship services at 5:00pm on the second Saturday of the month!
We are delighted that Convention passed Resolution 2017-4 (with a near-unanimous vote) to support and strength the work of the Animal Welfare Team.  Our primary mission of education and awareness and promoting animal-friendly lifestyle changes was affirmed. See this link for the full text of the Resolution.
Our display table was also a great success, and we added 24 more animal-lovers to our mailing list!

Liturgical Resources
Authorized Prayers
A Service of Thanksgiving and Remembrance for Companion Animals
An Alternate Service of Thanksgiving and Remembrance for Companion Animals
Service at the Loss of Beloved Animal
 Other resources:
The Anglican Society for the Welfare of Animals
A Sermon Preached by Committee Chair – the Rev. Chris Cox, Dcn on Animal Welfare
Eating mercifully video: https://www.youtube.com/watch?v=L-Va6F3iQFc
General Convention Resolution 2003-D016:
General Convention Resolution 2009-D015:
General Convention Resolution 2009-C078
General Convention Resolution 2012-A054