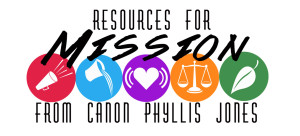 Welcome to the return of Resources for Mission!
A collaboration between
Your Diocesan Finance Office and Diocesan Finance & Budget Committee
Living into our learnings from our Discerning Our Common Call process about the importance of communications between our Bishop and his staff, committees and commissions of our Diocese and our congregations, we hope to bring you actionable ideas on a periodic basis, and invite your feedback, questions and topics for future newsletters.
---
 BREAKING NEWS:
2018 DIT Dividend Declared – at its October meeting, the Trustees of the Diocesan Investment Trust (DIT) approved an increase in the dividend rate for 2018 to $2.00 per share (up from $1.98 in 2017). This is the first increase in three years.
2018 COLA Recommendation Made – the Standing Commission on Clerical Compensation is recommending to Convention 2018 a cost-of-living increase (COLA) of 1%. Look for their letter in the Diocesan package being sent out to all congregations this month or on the Diocesan website for specifics (including the new 5-questions approach to completing the annual clergy compensation report!).
---
FOOD FOR THOUGHT:
In Matthew 6:21, Jesus gives us one of our most familiar stewardship quotes:  "for where your treasure is, there your heart will be also."  But as we examine giving habits, couldn't we also make a good case that, "where our heart is, there our treasure will be also"?  And if that's equally true, how do we steward people's hearts?
---
NOW GO AND DO:
Read this excellent blog post from Episcopal Church Foundation Vital Posts – Give Him Your Heart – develop your own response to the question asked at the end, and implement it!
---
SPOTLIGHT ON: 
Timely Year-End Tax Planning Tips for Charitable Contributions
Part 1 – IRA's and Required Minimum Distributions – Maximizing Tax Benefits
DID YOU KNOW, if you are age 70-1/2 or older, you can have your 2017 required minimum distribution (RMD) from your Individual Retirement Account (IRA) sent directly to your congregation or to our Diocese?
In fact, you can have up to $100,000 per year transferred from your IRA to a qualified charity which includes your congregation or our Diocese.
Making a direct transfer from your IRA can be advantageous in that it is excluded from your Adjusted Gross Income (AGI) on your tax return. A lower AGI could result in lower taxation on your Social Security benefits or could result in reducing (or avoiding) the Medicare Part B and D surcharges for high-income filers (singles with income over $85,000, marrieds with income over $170,000).
The downside (maybe) is that you also forego a charitable contribution deduction on your tax return. But since over 70% of tax filers do not itemize deductions anyway, this may not concern you.
Miss your chance to do this in 2017, but it sounds like something you'd like to do in the future? Well, 2018 kicks off another year, and your next IRA distribution can take place as early as January 2nd!
Part 2 – Gifts of Appreciated Stock
DID YOU KNOW you can make a gift of appreciated stock to your congregation or to the Diocese and get a great income tax break?
Briefly, here are the basics:
If you donate stock that has increased in value since you bought it more than a year ago – and if you itemize deductions — you can take a charitable deduction for the stock's fair market value on the day you give it away. You'll also avoid capital-gains taxes on the increase in value over time, which you would have had to pay if you sold the stock then gave the church the cash proceeds. You can deduct the fair market value only if you hold the stock for more than a year before giving it away. If you've held it for less than a year, your deduction is limited to your cost basis — what you paid for the stock — not the current value.
If the stock has lost value, it's better to sell the stock first and give cash to your congregation or the Diocese. You'll still be able to deduct your charitable donation if you itemize, but you'll also be able to take a capital loss when you sell the investment.
Most brokerage firms require a letter of instruction or letter of authorization to transfer the shares to a charity, and a mutual fund company may have a special form. It's a good idea to start the process several weeks before yearend, so the transfer has plenty of time to be completed before the holidays.  Interested?  Need to know how?  Contact our Controller, Sarah Paige, in the Finance Office at spaige@dioceseofnj.org or 609-394-5281 x20.
Depending on the size of your gift, there are charitable contribution deductibility limitations in the Internal Revenue Code. Please consult with your tax advisor to see how you may be affected.
---
MISSION-BASED BUDGETING:
GIVE YOUR OWN BUDGET CONVERSATIONS A WHOLE NEW ENERGY!  ASK US HOW!! Click on the budget narrative infographic to see our Diocesan Mission-Based Budget, and then click on the link above to ask us how YOU can do this, too!
Have questions that we can help with? Suggestions we need to hear?  Information you'd like to offer?  Contact us at treasurer@dioceseofnj.org, and we'll do our best to answer.
UNTIL NEXT TIME, GLORY TO GOD!
Social Share