---
FROM THE BISHOP:
Dear People of the Diocese of New Jersey,
"See, I am sending my messenger ahead of you,
who will prepare your way;
the voice of one crying out in the wilderness:
'Prepare the way of the Lord,
make his paths straight…'" Mark 1:2-3
.
I find myself identifying with John the Baptist this year more than any other year in my ordained ministry. I'll bet many of you are identifying with him as well. We feel like voices crying out in the wilderness. It is a feeling of helplessness in the face of a world spinning out of control. Recently, I have been drawn to the frightening images of William Butler Yeats's poem, The Second Coming:
Turning and turning in the widening gyre
The falcon cannot hear the falconer;
Things fall apart; the centre cannot hold;
Mere anarchy is loosed upon the world,
The blood-dimmed tide is loosed, and everywhere
The ceremony of innocence is drowned;
The best lack all conviction, while the worst
Are full of passionate intensity.
A president, shadowed by implications of misdoings with a foreign power, provoking war and violence on two fronts – North Korea and the Middle East; a Congress passing tax legislation which will, according to many knowledgeable sources, ultimately hurt the middle class and devastate the poor in order to provide a tax benefit to the wealthiest of Americans; the House of Representatives passing a law undermining state's rights, allowing persons to "open and carry" across state lines, even into states like New Jersey with strict gun laws. The New York Police Department made clear that Congress's proposal means that the NYPD will no longer be able to prohibit someone with an open and carry permit from carrying a gun into Times Square on New Year's Eve. In Alabama, a senatorial candidate against whom very credible allegations of groping a minor child have been made continues to be a viable candidate. It all verges on insanity.
.
But, on the Second Sunday of Advent, into the midst of this insanity, steps the steely, edgy, prophetic voice and figure of John the Baptist with his clarion call to repent and prepare the way of the Lord. John was not afraid to name the wickedness he saw in his day. He was not fearful of the dominance of the puppet king of Israel or the Roman Empire. He called all to repentance.
.
I can't help feeling we, each one of us, our world, need to hear his call to repentance today. We need to turn away from our current direction, alienated and alienating, fractured and frightened, so that we can reorient ourselves completely toward God and God's love.
.
This turning, this reorientation, leads us to Bethlehem where a child is to be born anew. He is called Wonderful Counselor, Prince of Peace. He is Emanuel, God with us. He is the incarnation, the enfleshment, of God's love and light in the world. It is a light and love we desperately need. It is a light and love that, as we will hear on Christmas Day, cannot be overcome by the darkness.
.
I yearn for that light and the love to come in all of its fullness. I'll bet you do to.
.
Listen to John. Accept his invitation. Repent.
.
May God bless you and keep you as you prepare the way of the Lord.
.
Come thou long expected Jesus,
Born to set thy people free; '
From our fears and sins release us;
Let us find our rest in thee….
(Hymn 66, Hymnal 1982)
.
In Christ,
The Rt. Rev. William H. Stokes, D.D.
XII Bishop of New Jersey
.
Bishop's Schedule Highlights
Friday, December 8, 2017:
Dinner honoring the Reverend Kevin S. Brown
Saturday, December 9, 2017:               
Delaware State University, Dover, DE – Ordination and Consecration of
 the Bishop of Delaware: The Reverend Kevin S. Brown
ECP Fundraiser – Washington, DC
Tuesday, December 12, 2017:
1:00 p.m.
Diocesan Council
7:00 p.m.
Christ Church, South Amboy town hall meeting
Wednesday, December 13, 2017:
7:00 p.m.
Trinity Cathedral: Ordination to the Transitional Diaconate – Daniel Ernest Somers
Thursday, December 14, 2017:
7:00 p.m. St. Mark's Church, Keansburg vestry meeting
.



In Galloway, a Congregation Finds New Life in Re-Commitment
Despite the promises of renewal and redemption, it can often be far too easy for all of us to look at our surrounding problems and say "It's too much;" the temptations to look at patterns of decline or atrophy to want to run and hide or to cease looking for a way forward are very real, and very scary.
It's in consideration of these real world fears that make the transformation and growth seen at St. Mark's and All Saints Episcopal Church in Galloway, NJ all the more inspiring and awesome. Two years ago, the church found itself in a steady pattern of loss, as spiritual, personal, and financial resources continued to shrink. The Rev. Terry O'Connor joined the parish in late 2015, and noticed this sense of loss had become endemic: "We all wanted to talk about how things used to be. We were grieving something that hadn't died. It was troubling."
.
Upcoming Diocesan Events
Diocesan Calendar for the through December 2017
December 15-16, Trinity Cathedral
Notices and Classifieds
From the Department of Youth and Young Adults:
Rise Against Hunger Lock-In
at Trinity Cathedral, Trenton, NJ
From 8:00 PM (12/15/17) 7:00 AM (12/16/17)
for 6th -12th graders and their adult chaperones
($36 per person)
Rise Against Hunger
is driven by the vision of a world without
hunger
. Our mission is to end
hunger
in our lifetime by providing food and life-changing aid to the world's most vulnerable and creating a global commitment to mobilize the necessary resources
Meal-packaging events are the heart of our work. We work with volunteers from corporations, faith congregations, schools, colleges and universities, and civic groups.
Learn more and register!
MLK Jr Day of Service
January 15, 2018 from 10 am – 3 pm at Trinity Cathedral, Trenton, NJ 10 AM End: 3:00 PM
For All Adults, Young Adults, Youth and Children
Dr. Martin Luther King Jr. once said,
"Life's most persistent and urgent question is: 'What are you doing for others?'"
We will begin our day together with the Eucharist. Following the Eucharist we will gather in Synod Hall to prepare service projects for several organizations in New Jersey and throughout the country.
Click here to register and learn more!
……
Diocesan Convention – Save the Date!
The 234th Convention of the Diocese of New Jersey will take place on March 2-3, 2018 at the Crowne Plaza in Cherry Hill.
Registration information will be available in the coming weeks.
Preconvention Hearings:
January 30, 7 pm – Christ Church, Toms River
January 31, 1:30 pm – St. Barnabas, Monmouth Junction
January 31, 7 pm -Trinity Church, Princeton
February 1, 7 pm – Grace Church, Plainfield
Feburary 6, 7 pm – St. Luke's, Gladstone
February 8, 7 pm – St. Augustine's, Asbury Park
February 15, 1:30 pm – St. Stephen's, Whiting
February 15, 7 pm – St. Thomas, Glassboro
February 20 7 pm – Christ Church, Somers Point
……….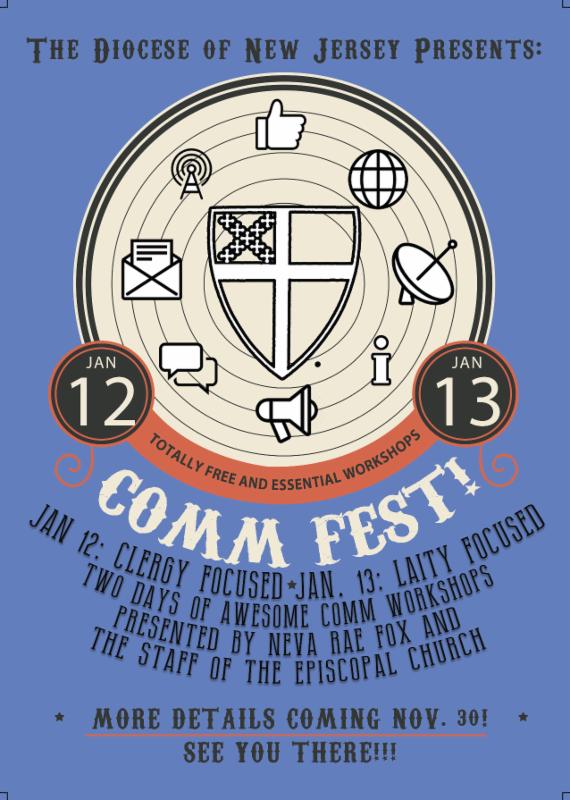 ……….
HIRING A DAY SCHOOL DIRECTOR


St Paul's, Westfield is seeking a directory for a preschool school with students aged 2 through kindergarten with a current student roll of 235.

HIRING PT PARISH ADMINISTRATOR:

.

SEEKING LEVAS II

St. Thomas', Glassboro is looking to buy used copies of LEVAS II.
Let us know if you can help!SEEKING INFORMATION
ABOUT ELECTRONIC GIVINGSt. Francis, Dunellen, is exploring setting up an electronic giving system  If your congregation is using such a system, please contact them with the following:
Name and contact info of the service you use, fees/costs involved for parish and/or donor, rough percentage of households that use this  option, pros and cons, anything else we should know.
Proclaiming Christ in the Garden State
609.394.5281
info@dioceseofnj.org
We are the Episcopal Branch of the Jesus Movement in the Southern 2/3 of New Jersey.
Social Share