–The Rev. Barbara Briggs
.
St. Matthew's Church in Pennington sends a service team to El Hogar, Honduras every other year. El Hogar is a residential school for elementary school children in Honduras who are most at risk from hunger, violence and poverty. These children are invited to attend the school by the El Hogar staff. Last week I was privileged to participate with six others. We worked hard to rehabilitate some classrooms, but mostly, we made ourselves available to the staff and students, and played or did crafts and art with the children every evening.
While we were there, a set of five siblings arrived. Their father had been murdered, and under this same threat, their mother had fled, leaving them with their grandmother, living in a lean-to on the banks of a river. Their grandmother went into the city every day to sell candy, leaving the children on their own. Her meagre earnings weren't enough to provide for everyone. The oldest boy felt responsible for his siblings and grandmother. At just 11 years old, he had become the man of the house. When he arrived at El Hogar, he was dissolved in tears, and would not go to bed that first night without seeing where his siblings were sleeping. He felt guilty for not staying with his grandmother to help her, but also knew that he needed to be at El Hogar with his siblings where he could eat three times a day, have a bed and a roof over his head, the opportunity to attend school and receive the love and care of the staff, as well as to have other children with whom to experience being a child. It was such a gift to play UNO with him on his third day at El Hogar, and to see him smile and laugh even when he kept losing.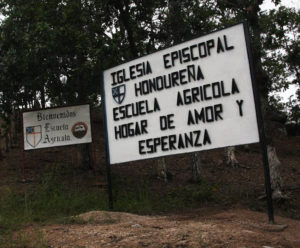 Seeing the work of the Episcopal Church in Honduras—reaching out to the poorest and most at-risk children, made me proud to be an Episcopalian. Lives are being transformed, and we are there to witness it and provide a safe space where a community of love, care and compassion is being built every day. To see that hope is possible in the most challenging of situations is a sign of the power of the Gospel. The grace of Jesus Christ enables the staff to enter dangerous communities and emerge with children whose parents are willing to let them go to school, sometimes quite far from home. Every day the school gathers after breakfast to hear the Word of God and to give thanks for God's goodness. It is shocking to know that some of these kids come from homes made of whatever scraps of plastic or metal could be found to build a shelter over a dirt floor, and who survive on beans and Tortillas. There is no running water or electricity. This crushing poverty causes nothing but suffering and worry. It is impossible for them to do anything but look for the next meal.
| | |
| --- | --- |
| | |
El Hogar reaches out to find these families and give them a glimpse of hope in a brighter future. I am deeply grateful to have been a part of this community of care, even if just for a week. I treasure every hug I received and every smile I witnessed.
.
The Rev. Barbara K. Briggs, Rector,
St. Matthew's, Pennington
Photos: Phyllis Jones
God is faithful; by him you were called into the fellowship of his Son, Jesus Christ our Lord. [1Cor 1:9]
Social Share